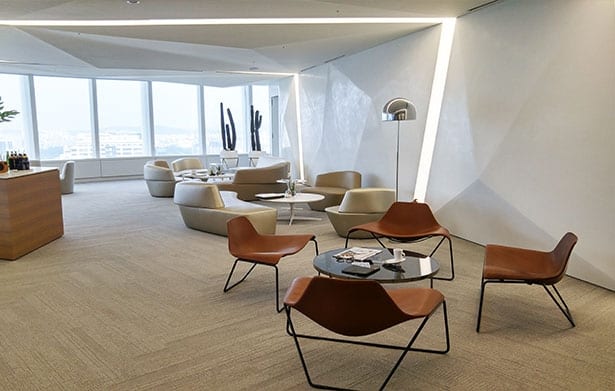 |||
"We're pretty proud that we've done something of this scale," says Penson CEO and founder Lee Penson of the 23 floors the London practice has designed for Lotte World Tower in Seoul, Korea. "Winning against all the global competition – it's a cool moment for a little brand like ours."
In terms of scale it's hard to get bigger – the 123-storey, blade-like skyscraper by US firm Kohn Pedersen Fox measures 555m high – making it the tallest building in Korea and the fifth in the world. Featuring offices, bars and luxury lounges, Penson's 23 floors give a flavour of the behemoth's potential for future clients, with the aim of enticing them to move in. The aesthetic is professional but warm features like wood panelling and leather steer the building away from corporate soullessness.
"We'd never even looked at South Korea as being a potential market," says Penson, whose firm has recently designed offices for
PlayStation, Google and YouTube, "but Lotte came to us and wanted us to pitch for the project." Up against a range of architects and designers from across the world, Penson was asked to prepare 17 concept drawings and, although handsomely paid, had only ten days to complete them. "One or two organisations couldn't cope with the speed," says Penson, "which was part of the client's sifting process."
Open-plan lounges mix eastern finishes with western furniture
Lotte, for those that haven't been to Korea – for if you have, you'll have no doubt come across it – is a huge conglomerate with businesses stretching from confectionary and heavy chemicals to finance and publishing, plus retail, fast food, electronics and construction. In its calligraphy-inspired fin, the Lotte World Tower includes office space, residential floors, a luxury hotel, a mall and a cultural destination – not to mention the highest glass-bottomed observation deck and the highest building-contained swimming pool.
The incredibly formal pitch involved Penson associate Lan Yang presenting to Lotte's CEO and a room of board members, who sat silently and gave nothing away. "Lan's a cool cucumber and she said it was pretty terrifying," laughs Penson. But after a nerve-wracking day waiting for the phone to ring, Penson was told it had been successful, and started the project at 7pm the same evening. "What the client loved about our scheme was that it pushed boundaries for them culturally," explains Penson. "We did quite a corporate design. It wasn't quirky, but it was crisp and still quite creative and they could see how it would bring the Eastern and the Western cultures much closer together."
The project demanded a cultural shift from both Penson and the client, especially as the latter wanted insight into the office philosophies and aesthetic tastes that would attract Western tenants. Populating the office spaces with tactile Tacchini furniture, Penson provided a variety of different working environments for collaborative or solo activities, and encouraged Lotte to break with Korean convention. "We showed them the way of giving a base build shell to tenants rather than racking everything up with lots of suspended ceilings," says Penson. "We also introduced things like round tables as a concept for workplaces – for Seoul that was a big thing."
A scale model of the 123-storey tower is the focus of the showroom
One of the most radical suggestions Penson made was to open up some spaces in the upper floors to create winter roof gardens with impressive two or three-storey atriums. "The work ethic in Seoul is pretty brutal; people work really long hours," says Penson. "That's why we introduced them to softer, calmer, open spaces."
Traditional Asian elemental design, including gold accents, green planting and tonal timber, was paired in the open-plan office spaces with more futuristic – and Western – finishes like walls formed from geometric faceted cement. Meeting rooms and offices were fitted with floor-to-ceiling glass walls, but were edged with curtains for moments when great privacy was needed. Details – whether bespoke joinery or zigzags of recessed LEDs that dart through the walls and ceilings – were essential for achieving a luxury finish. "When you look at a lot of the interior design and the workplace culture in Seoul, it is still quite dated, and the finesse of a lot of the buildings is quite basic," says Penson. "We worked with the local architects to educate them about materials and details – junctions, joints, shadow gaps don't exist in their world so much."
A lot of thought was given to the materials palette, mixing leather and brass with veneers with a fine warm grain. A good part of the project was toning down the bling traditionally associated with luxury. The toilets, for example, are floor-to-ceiling marble, but it's a local marble with a fine, non-ostentatious vein. "We did the project in a way that felt groundbreaking for the client in their culture, but was also seen by the western hemisphere as something that was cool, contemporary and modern," says Penson. "It was quite a hard balance to find."
Fully glazed meeting rooms are fitted with curtains for privacy
Penson has created offices with finesse for South Korea's tallest building – the Lotte World Tower