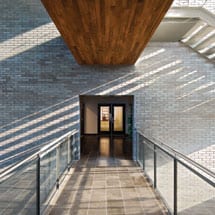 Words by Peter Sobchak
Not quite urban, but not wholly rural either, Hagen's new head office synthesises landscape, structure and light in memorable ways, but always in keeping with its mandate to tread lightly on the earth
Kermit the Frog once lamented, "It's not easy being green." But apparently for the building industry, this may no longer be the case. Sustainability is on everyone's lips, and new building projects that claim to be "green" in some form or another are popping up everywhere. Or so it seems. Because in reality the US Green Building Council reported that LEED-certified projects represented only six per cent of commercial real estate in the States in 2006, with similar numbers in Canada. Clearly it's too soon for Al Gore's army to claim victory.
That's because when it comes to green, usually another type of green takes over in the decision making process: greenbacks. Money. And because most new office building development is done by speculative developers, who typically prioritise the need to quickly recoup an investment over qualitative improvements and life-cycle cost savings, opportunities for sustainable strategies are bypassed in favour of quick cost-saving measures.
Even many new owner-occupied buildings, whose interests tend to be longer-term than speculative developers, don't fully take advantage of the increasing availability of new sustainable building processes, systems and products.
In the case of buildings, new construction is the most important contributor of emissions to water and land, including toxic releases. For example, one study conducted in the US found that the construction industry produces more carbon dioxide emissions through the manufacture, transport and use of materials than any other sector. Another study, this time done in Canada, determined that the embodied energy in office buildings can be equivalent to more than 20 years of operating energy use.
The only way we are going to see a dent in the enormous impact new buildings have on the environment is to have owners whose own corporate vision is sensitive to environmental concerns, which thankfully is the situation with Hagen Industries, a Quebec firm that raises and sells tropical fish and exotic birds as well as processing foods and manufacturing accessories.
As their 50th corporate anniversary was approaching in 2004, a decision was made to erect a new head office building to consolidate in a single place all 250 employees of the Research and Development operations, who previously had been scattered throughout several industrial buildings in the western part of Montreal island. They found two adjacent lots in Baie d'UrfÈ, 35km southwest of downtown Montreal along the Trans-Canada Highway, that were spacious enough to accommodate future growth and close enough to manufacturing facilities and management offices.
Even though the project had already moved past the early stages of turnkey-type production (concept, budget and schedule), members of the building team, including Montreal-based Rubin & Rotman Associates, had the opportunity to examine the project in-depth with the owner. "It was during these discussions that we realised how deeply concerned the Hagen family are with the impact of climate change on the health of natural habitats," explains principal Rick Rubin. "They were very interested in how we were to develop the forested site of the new head office building." The team seized this opportunity to suggest implementing strategies that would garner the building LEED (Leadership in Energy and Environmental Design) certification, and the Hagen family embraced the challenge and decided to pursue as high a certification level as the budget and schedule would permit.
Achieving this goal began first with a careful analysis of the site in the project's preliminary stage. In the planned installation area, the quantity of trees was listed by species and by their state of health. Mature trees with a good chance of survival despite proximity to the planned work area were marked with pink ribbons and shown on the site plan.
"With a tangible view of the conditions on site and a set of electronic drawings in superposition, we were able to adjust the initially planned project and conserve clusters of mature trees and indigenous vegetation," says Rubin. This act of conservation, valid on its own merits, was also aimed at having large existing leafy trees protect part of the southern facade in the summer.
"We then engaged in selective cutting of trees," says Rubin. "Branches and small trees with no recovery value were separated from tree trunks intended for use as finishing materials." Maples, oaks, lindens, ash trees and red maples were dried, cut into planks and placed in piles, ready to become soffits, wall panels, furniture components and interior decoration.
The public at large is beginning to understand what building experts already know: the intended life of the building is as important a factor in assessing its sustainability as what it is made out of and how it is made. This is especially true when it comes to a building's energy performance: the longer the building lasts, the more any additional capital invested in high-performance systems is balanced (and then overtaken) by the savings that will be generated over its life, not to mention the environmental benefit of lower energy consumption.
In the case of the Hagen head office, with an estimated minimum lifespan of 50 years, "We set ourselves the goal of designing a building at least 50 per cent more efficient than a building of similar category with a design that complies with the national model code," says Rubin.
The team's mechanical engineers began this by doing a comparative study of the various available systems that could be applied to the project context. "After weighing the pros and cons of each option, we concluded that a geothermal system with liquid-to-liquid heat pumps would work best in meeting our efficiency goal," says Rubin.
In addition, the building's rectangular geometry and the existence of a central atrium were elements in the initial architectural plans that provided some benefit in designing the mechanical systems. The building's position along an east-west axis minimises the heat loads normally encountered in the spring and autumn transitional periods, when the angle of the sun's rays is lower. On the window-covered southern facade, the presence of those mature trees left standing during construction forms an effective sunshade.
In its centre, a three-storey atrium serves as the building's lungs, bringing in fresh air that is distributed throughout building spaces by means of transfer return fans located in the ceiling space. Before air evacuated from the building is released outside, the dedicated outdoor air systems' (DOAS) ventilation unit sends it through a heat recovery wheel. In the winter, heat and humidity are recovered from the evacuated air and transferred to the fresh air entering the building, which is much colder and drier than what occupants' comfort demands. Conversely, in the summer the wheel transfers heat and humidity from fresh air entering the building to the evacuated air.
The decision to go LEED meant the building team had to be judicious in their choice of materials. This was achieved by maximising the building's recycled or recyclable content (such as the steel structure, partial replacement of cement by fly ash in cast concrete elements, gypsum panels and suspended ceiling tiles with recycled content), and the use of regional products (such as river pebbles used in the outdoor design, cast concrete, prefabricated concrete panels and the recycling of felled trees into coverings for interior finishes) to limit pollution linked to transportation of merchandise.
Actions aimed at reducing the consumption of drinkable water remained simple. Outside, conservation of much of the natural vegetation, along with landscaping based on indigenous plants that can resist dry spells, made it pointless to install an automated irrigation system. Inside was given over to controlled-flow faucets and double-flush toilets with infrared detectors, as well as dry urinals.
While a lot of effort and thought was put into building efficiencies, occupant health and comfort wasn't ignored. Paints, varnishes, sealants and glues used on interior finishes emit little or no VOCs (volatile organic compounds). The carpeting has an adhesive backing and was also installed without glue. Natural light was maximised by employing reflecting shelves and various types of glazing ranging from clear to semi-opaque and opaque, thereby reducing artificial light needs.
In fact, the windows go a step further than just controlling light levels. In case anyone forgets this building's communal relationship with the site, the natural wooded environment is emphasised through the framing of specific views by a dynamic window arrangement and various glass opacities. And to blur the line between inside and out even further, trees felled on site were cut into blocks and used as decorative "tree" elements in the lobby and cafeteria.
Although it is still too early for conclusive results of the building's energy performance, calculations indicate it is nearly 52 per cent above that of a similar building. This works out to an annual saving of one million KWh, or $90,000 at current prices, equivalent to 300 tonnes of greenhouse gas. But the real success of the project comes from the building team's ability to see the project goals holistically, and blending the expertise of each team member to produce a coherent, functional, economic and aesthetic whole.