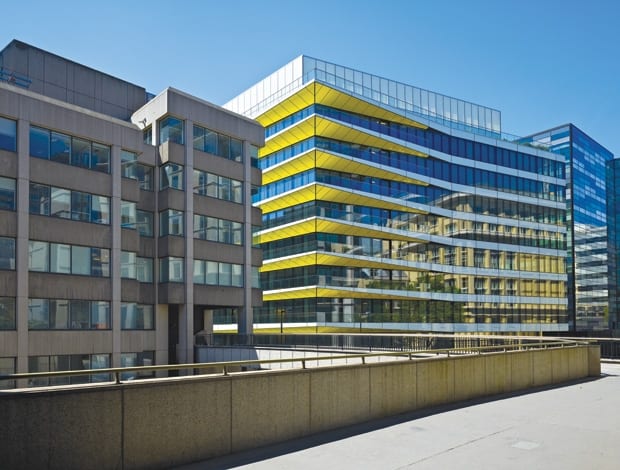 David Walker's Riverbank House has a confident use of colour © Timothy Soar||
Architects don't like colour, so the maxim goes, but it doesn't take too much effort to find great examples of buildings that are more experimental in this area, with Rogers Stirk Harbour + Partners heading up the pack
I heard a great story about Mike Davies of Rogers Stirk Harbour + Partners, a distinctive chap who wears his hair long and is never seen without a red suit. Some years ago he was discussing a new job with Canary Wharf Group that it wanted to keep under wraps, and so he was asked not to come in his signature whistle and flute for fear he'd be recognised. Davies agreed to break a habit of a lifetime, and duly turned up in canary yellow one. Apocryphal perhaps, but it highlights the practice's interest in colour, which has been a key element of Richard Rogers' work ever since he built a bright yellow house for his parents in Wimbledon in the late 1960s.
I was reminded of this recently when visiting Tate Modern's recent Matisse exhibition. The gallery was festooned with the primary colours of the artist's famous cut-outs, while outside, Piers Gough's 15 storey Bankside Lofts, designed for Harry Handelsman (yellow again), seemed to sing along nicely with the multicoloured structure of RSHP's Neo Bankside apartments. Pity, I thought, that Herzog & de Meuron were going for boring old brick on their Tate extension.
Then a walk across the river to the City to enjoy the undercroft space of RSHP's Leadenhall Building, where you are greeted with huge nautical ventilation funnels in blue and red and, to the north, a whole facade of brightly coloured lifts speeding up and down in the world's largest kinetic sculpture.
One of the most successful uses of colour by RSHP is at Madrid's Barajas Airport, where the columns of the 1km-long terminal building are coloured in a graduated rainbow. It is in stark contrast to the airports of Foster + Partners, which tend to prefer the monochrome look; it brings to mind a comment made by Alan Fletcher, Pentagram's graphic designer, who was doing the signage for Stansted Airport. Interviewed on television, he showed his frustration over attempts to put a bit of colour into his work: "The problem with Norman is that he thinks grey is a bloody colour!"
James Stirling of course liked lots of colour. Not far from the Leadenhall Building is his No 1 Poultry, with its deep blue tiled atrium walls and yellow, red and aquamarine reveals to the punched-out windows. At his Neue Staatsgalerie in Frankfurt, huge handrails of bright pink and blue lead the eye to lime green mullions of the sloped curtain walls.
Some of Stirling's colour mixes took a bit of getting used to, and you do have to be careful with colour. I'm a big fan of the work of Sauerbruch Hutton. Its GSW building in Berlin is a great project, and illustrates how colour can enliven a facade. But the idea has been recycled on too many low-cost residential blocks in recent years, where spattering coloured glass fins across a building seems to be used as a substitute for design and a mask for indifferent elevations.
When properly integrated into the architecture, colour can be magical. David Walker's Riverbank House, which overlooks the Thames on the north side of London Bridge, is a great example of subtle yet confident use of bright colour. The yellow undersides of its balconies, slightly upturned so they can be enjoyed from the South Bank, seem to bring a bit of sun to the City even on the dullest days.