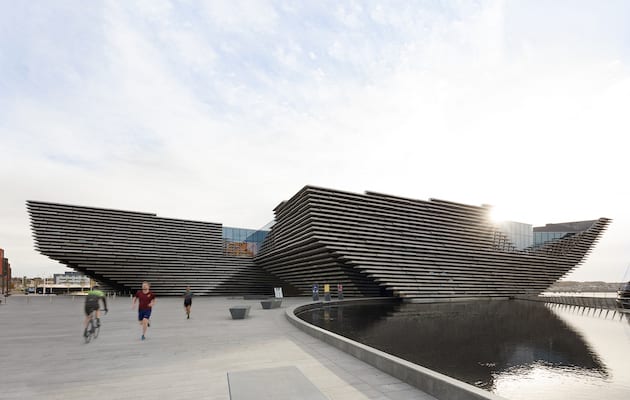 |||
Lead architects Kengo Kuma and Associates worked in collaboration with PiM.studio Architects to deliver Scotland's first design museum, V&A Dundee
Read more from One Year In inside every issue of OnOffice – get your copy here
CLIENT: Phillip Long, Director, V&A Dundee
It has been a remarkable first year for V&A Dundee, from opening our doors to the public for the first time last September to welcoming numbers of visitors far beyond what we expected.
As lead architects on the project, Kengo Kuma and his colleagues have designed a very beautiful, but also very practical building for Scotland's first design museum.
The original architectural brief asked architectural practices to consider how to reconnect the city of Dundee to its historic waterfront, as well as creating world-class spaces for galleries and major exhibitions.
What we have seen every day over the last year is how successful this design has been, celebrating both the museum's position on the water but also the incredible quality of light we enjoy here in Scotland.
From the sun pipes in the roof to large feature windows, the museum is lit with ever-changing natural light which makes the interior very calm and relaxing.
The public areas and galleries are very flexible and allow us to plan for major events and international exhibitions. Our exhibition galleries in particular allow us to completely reconfigure the space, giving us total control to show the very best design exhibitions.
ARCHITECT: Maurizio Mucciola, Project Architect and Director, PiM.studio Architects
We are very happy to see that so many people have enjoy their visit to V&A Dundee since the opening and seeing the building full of people of all ages every time I went back to Dundee is my greatest satisfaction and the best achievement and result we could hope for this project.
The use of natural materials in the building interiors helps create a very welcoming space in which people feel comfortable and can relax and enjoy their time in the museum, at the café, restaurant or exhibitions.
The quality of the natural light in Scotland is amazing and especially during summer, the way light changes through the day is very beautiful; so the many different sources of natural light in the building, especially in the main hall, create a special and beautiful lighting atmosphere in the space.
The open nature of the space has revealed to be very flexible with many events taking place in the main hall and the upper floor foyer, including music events, parties and dining events. We are also very proud that the Michelin Design Gallery flexible space in the foyer is resulting in a very successful and flexible exhibition space.
V&A Dundee opened to the public on 15 September 2018, OnOffice catch up with the design museum one year on