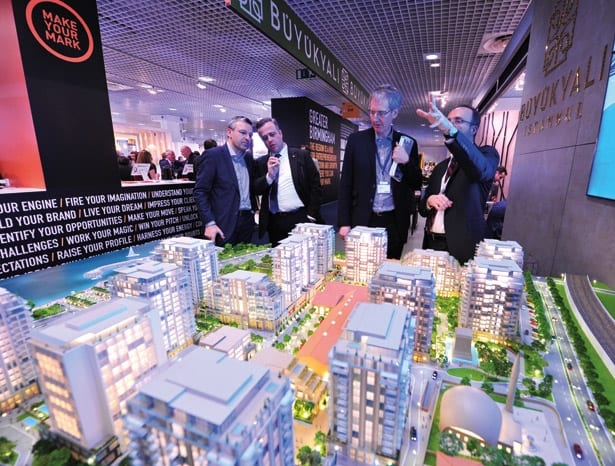 The world's investors and developers descend on Cannes|||
As architects make their annual pilgrimage to the French Riviera with the promise of a plethora of developers to woo, Brexit amongst other things will be dominating their thoughts. The message from the UK government under the banner 'Property UK' is that the country is very much open for business with its own dedicated pavilion, led by the Department of International Trade (DIT) together with various other stakeholders representing both national and local government.
Elsewhere, there is the well-established London stand, with its prominent position adjacent to the main exhibition space at the Palais. Regional cities are flying the flag for attracting inward investment to their particular part of the UK too. Manchester, for instance, is bringing the second largest delegation of the 550 cities that are exhibiting. Other regional representation this year comes from Leeds, Sheffield, Glasgow, Liverpool and Cheshire.
North of the border, the Scottish Cities Alliance is a collaboration consisting of seven Scottish cities, including Aberdeen, Glasgow and Perth, working together and establishing themselves as digital hubs in order to become more internationally competitive and more attractive to potential investors. One such initiative is the Innovation Lab in Perth, a hub which links the digital and creative sectors to research and education to encourage entrepreneurship.
Interestingly, the City of London Cooperation is getting on board the coworking bandwagon, billing itself as the 'world's original coworking space' dating back to the time in the 1600s when merchants met to do business. These days, the Square Mile is promoting its public wifi, the Shoreditchification of its food and retail offerings and is positioning itself as a supporter of the arts, citing its funding of the new Museum of London as an example.
In the overall conference programme at Mipim there will be a brace of back-to-back sessions that examine the aforementioned Brexit issue, one from a London standpoint, the other with a more international outlook. The conference programme will also have a number of sessions related to workplace design. On 14 March, there will be a session entitled New Ways of Working, New Production Tools: What is the Impact on Headquarters, which will look at the new models of working in an office, as demanded by younger generations. The day after, Mahesh Ramanujam, president and CEO of the US Green Building Council, will be part of a panel examining How To Transform and Reuse Buildings Almost to Infinity.
Looking in a wider context, a session on the same day called How To Think In Advance, the Cities of Tomorrow will welcome speakers including architect Murat Tabanlioglu and Chris Fannin, senior vice president and director of planning at HOK.
The south of France property show will be talking Brexit, digital readiness and cities of tomorrow