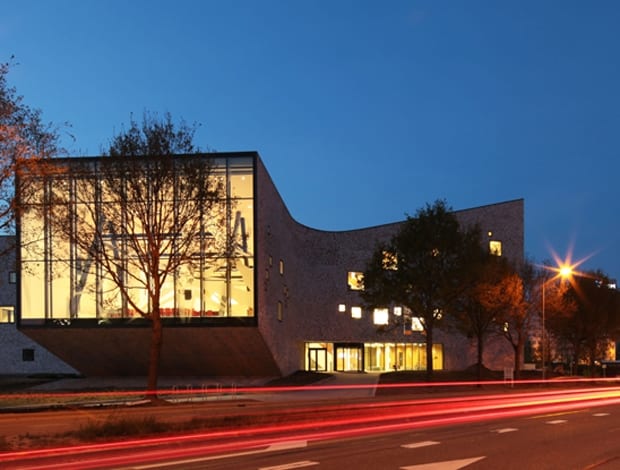 Rabobank's new advice centre (image by Christian Richters)|The stairway widens into staggered terraces (image by Christian Richters)|The auditorium doubles as workspace (image by Christian Richters)|A quiet niche for co-working (image by Mecanoo)|Quiet spaces on the top floor (image by Mecanoo)|Oak panelling lines the interior (image by Mecanoo)||
When co-operative bank Rabobank charged Mecanoo with designing its new advice centre in the Netherlands, it requested that the building should not look like a bank. Instead, the firm created a shared workspace for both the public and employees that functions like a "modern public library" – something it is well versed in, having completed Birmingham Library, the largest in Europe.
Rabobank, which has its roots in food and agriculture industry, wanted to combine smaller branches within a centrally located advice centre in Limburg, the southern-most province of the Netherlands.
Its vision was that the space should encourage collaboration and knowledge sharing, for both employees and customers, and inspire new initiatives. A large number of the bank's customers are entrepreneurs, many of whom are self employed, so it wanted them to be able to use the building as well.
"The intent underlying the design is the development of a cooperative bank extending its arms invitingly to society," said the practice.
The building, which sits on a slight hill, curves up four stories high at one end, while the other lifts up off the ground and is faced with glass. The façade is made up of pale bricks mottled with the local yellow-marl stone interspersed with semi-glazed stones, which gives it a tactile feel.
The main entrance leads into a vast atrium lined with oak panelling beneath the curved ceiling and sculptural skylights. From this vantage point, the rest of the interior can be easily surveyed. The eye is drawn into the space by the white stairwell, which flows around the atrium like a flourish of ribbon and broadens into staggered terraces that hold individual workstations, niches in the oak panelling and a range of conference rooms. The upper floor similarly contains a variety of workspaces, including a large "zig-zagging" table for informal catch-ups and team meetings.
The upper floors can only be accessed by staff through a pass system; however, the entire ground floor, which includes a restaurant, is open to the public. The auditorium, which doubles as workspace, provides the focal point of the design. A transparent curtain with silver and blue motifs was custom made by Petra Blaisse of Inside Outside to run on a 60m track overhead, and can be reconfigured to create different spaces and atmospheres.
The only area of the building that isn't open plan is the call centre, which sits behind glass on the first floor, so it remains visually connected while being isolated from any noise.
Tallying with the business' agricultural specialism, the building also boasts BREEAM Very Good rating, and makes use of residual heat from a nearby industrial zone.