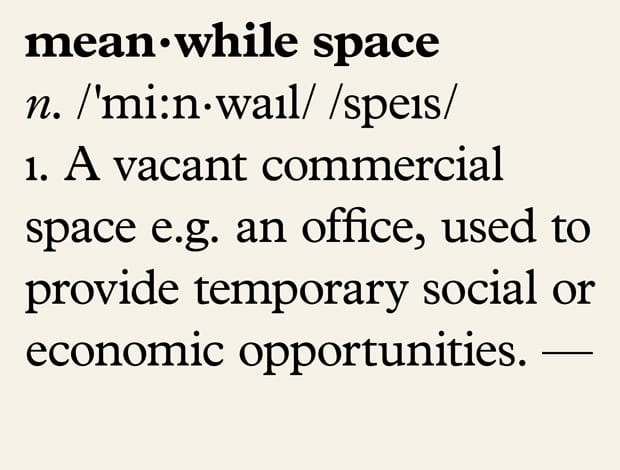 |||
If you just look at the statistics, things aren't looking great for London's creative communities. Greater London Authority (GLA) workspace research in 2014 showed a 45% increase in rents of artists' workspaces over the previous ten years, with a third of providers expected not to be able to renew their leases over the following five years. Moreover, 30% of London studios would disappear in the same time.
Compounding this, a report from July last year, Making Space: Developing and Sustaining Affordable Artists' Studios and Creative Workspaces – published by creative industries finance specialist Creative United and funded by the Arts Council and the Mayor of London – says: "Studios, makerspaces and the artists that occupy them face increasing pressures such as the growing demands for similar workspace by other more lucrative sectors, increasing property values and the loosening of regulation around residential building and related large-scale capital development programmes." It goes on to argue that the key issue is "the ability to act rapidly on property opportunities in the face of unusually intense competition from commercial developers and other uses".
The Rose Lipman building offers creative space in De Beauvoir
TMCP's Ashley Road studios, theatre and bar in Tottenham
The vicious circle of regeneration usually seems to involve big business moving in to so-called "cool" areas at the expense of the artists and creatives who gave these postcodes cachet in the first place. Fortunately though, there is some positive news to come out of this, with the rise of "meanwhile spaces": creative spaces that inhabit unused office space before it is redeveloped.
One man who remains upbeat about affordable creative workspace is Nick Hartwright, co-founder of The Mill Co Project (TMCP), a social enterprise which began life in 2010. "It was born of necessity," he says. After a building he occupied was sold to a developer, Hartwright began to look at other models. And so, at the Rose Lipman Building, an abandoned space in De Beauvoir, north London, TMCP began its mission to provide mixed-use affordable workspace for artists, designers and creative SMEs in London – a sustainable solution that improves communities over the long term. "We saw how we could make it stack up and operate it and keep it going," explains Hartwright.
TMCP's Carlsberg Tetley building will open in the summer
Meanwhile Space developed Cottrell House in Wembley
It wasn't long before TMCP began working with the GLA as a delivery agent, transforming the use of a handful of buildings, from office space at Mandarin Wharf in Hackney, to a studio, co-working space, theatre and bar in Ashley Road in Tottenham Hale, to another Haringey project at nearby Gaunson House. "I don't see meanwhile space as one or two years and then leave the building – but much longer term," he says.
A case in point is an exciting-sounding new project in West Silvertown, once the docklands home of Carlsberg Tetley – a brutalist number dating back to the 1960s that Hartwright describes as looking like Battlestar Galactica. The space was designed by SODA, a young practise that has previously worked with the Mill Co on the Green Rooms Hotel. With finance from TMCP and the GLA regeneration fund, the project offers nearly 5,000sq m for businesses such as set design agency Block9. Work has started on site with occupation due later in the summer, and Hartwright estimates this set-up will be available for close to a decade. There's no reason, he argues, why with the right support SME tenants cannot grow and be decanted back into the sites once they are redeveloped: "Those businesses put down their roots and bed in with everyone there."
Loughborough Junction railway arches by Meanwhile Space
This gives a longer-term value to the model Creative United describes of creative spaces having "wider economic and social value, helping to regenerate areas by stimulating local business growth and attracting inward investment and infrastructure development, without in the main, disenfranchising local incumbent communities". After all, the Institute for Public Policy Research (IPPR) estimated that London's open workspaces host 31,000 people and generate £1.7bn for the capital's economy. The think tank's associate director, Clare McNeil, says: "Affordable workspaces are vital to sustaining London's startups and creative and social enterprises; they are the lifeblood of London." And Mayor Sadiq Khan, no less, called on London boroughs last December to sign up to a pledge to support startups, small businesses and artists in the capital to limit the conversion of office space to residential space, ensure new developments include non-residential space for small businesses and encourage affordable workspace through planning policy and good practice.
As Eddie Bridgeman, director at Meanwhile Space, explains: "It's about coming to terms with gentrification – it's a far bigger process than us." The social enterprise has activated empty spaces in a number of London locations. "The reality from a user's point of view is that they want accessible space which is affordable, cheap low cost space and [space] which is on very flexible terms as they don't want to overcommit. We look for spaces that otherwise would be redundant and avoid them going to waste," he says.
Meanwhile Space's Granby retail incubator in Lambeth
Fixed freelance desks are provided in the Granby hub
In Wood Green, north London, for example, Meanwhile Space is overseeing the transformation of a building owned by the council into studio space with co-working provision on the ground floor. In the adjacent car park, there will be a series of work sheds and a bus which will be a cafe. "This will animate the space and make it interesting," says Bridgeman. This low-cost project, funded by the GLA and Meanwhile Space, only started at the beginning of this year, with the outside area the last thing to be complete for the meanwhile project in May. The project is expected to have a duration of four to five years.
The organisation is also busy south of the river: on Lower Marsh, near Waterloo station, a former Lambeth library space is being converted into Granby Space creative hub, a retail incubator with a mix of small office pods and a co-working space at the rear. And, further south, another site at Loughborough Junction involves getting to grips with railway arches. "By having more activity there it pushes out the anti-social behaviour because everything's more open," explains Bridgeman. The next phase, he says, is to shift the management of the workspaces created there to the community. Developers' attitudes remain mixed, but Bridgeman applauds the likes of Argent and U&I for their ability to see how meanwhile spaces can make things more interesting and diverse for the end user. "It speeds up that organic development," he says.
River views from Ugly Duck's Off Quay space in East India Dock
Off Quay offers open space for exhibitions and events
One of those enlightened souls is Jacob Loftus, CEO of General Projects, a development company he set up last summer after cutting his teeth with Resolution Property, where he was head of UK investment, with projects such as the pioneering Alphabeta building under his belt. "We're cognisant that the arts community is forever being priced out of affordable space," he says. With the help of creative fundraising provider Outset, General Projects paired up with studio operator Arebyte, under an initiative called Studiomakers.
As a result, a site on Goswell Road in Clerkenwell is providing 35 studios, 15 desk spaces, three offices and two galleries for one year before its redevelopment. Arebyte director Nimrod Vardi says: "A lot of big organisations wouldn't take the space because it's short term, whereas every time we go in to a space, that's our leverage." The occupants of this former printers' building include "a beautiful, amazing bunch of people" that number among them fashion designers, film-makers and fine artists.
Above: Ugly Duck's 47-49 Tanner Street is a former tannery
Creative United's report outlines three types of workspace provider structure: emerging studio collectives; a stabilisation period for those creative workspaces that have initial space and have been going for a few years; and finally, programmes designed for established providers. It also mentions a shared ownership model and a deposit fund approach aimed at supporting studios during their stabilisation process. For this to become a reality, a funding pot would have to be developed and managed by a trust, supported through a multi-agency donor approach. For its part, TMCP is working on a tethered model, where affordable workspace is offered in tandem with residential space that is below commercial market rate.
At its Off Quay space at East India Dock, Ugly Duck is another company that is making the most of meanwhile spaces. Founded by Rosie Slay and Scarlett Plouviez Comnas, and currently in the process of gaining charitable status, Ugly Duck spent seven days stripping out a floor to make exhibition, performance and maker space at Off Quay before Studio RHE's architectural vision is realised at Republic (the first phase is pencilled in for completion later this year).
Ugly Duck's first project, 47-49 Tanner Street in Southwark, is a former Victorian tannery with four main indoor spaces and two outdoor ones for hire. Both Tanner Street and Off Quay operate a time-banking model, whereby time spent doing administration, or even a bit of DIY, can be swapped for use of the space for activities such as meetings or photography – a perfect example of the mix of economic and social benefits.
As rising prices and regeneration transform the capital, developers and social enterprises are finding creative ways to use spaces in transition