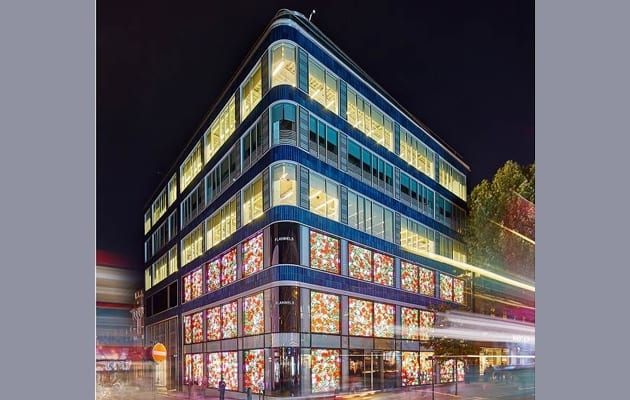 Academy House by John Robertson Architects. Photo by PENSON|||
John Robertson Architects (JRA) has completed the transformation of Academy House on Oxford Street in London, taking inspiration from its history as the former site of a 1930s cinema and the Marquee Club, a music venue that hosted the debut performances of The Rolling Stones and The Who.
The 1980s block on the corner of Oxford Street and Poland Street is no more, as JRA have transformed the building, most strikingly choosing a glazed terracotta faïence cladding in a cobalt blue glaze with a vertical ribbing. The firm also collaborated with London artist Catherine Bertola and The Sculpture Factory to create Art Deco-inspired perforated steel entrance gates, with the entire exterior informed by the local wealth of listed buildings including Robert Lutyens's black granite Pantheon building and Norman Shaw's Wren-inspired former Waring & Willow building.
Internally, JRA has opted to retain the concrete frame, with the exposed fabric providing a semi-industrial contrast to the decorative exterior. Retaining and reusing the existing frame and foundations was also a means of maximising the project's sustainability – the practice expects to receive an Excellent rating from BREEAM, which is considered best practice and achieved by approximately 10% of new non-domestic buildings in the UK.
Further plans to include plants at rooftop level are designed to help achieve this by reducing rainwater run-off and helping to encourage biodiversity in a busy area of the capital.
John Robertson, Principal Director at JRA, said: "The key challenge at Academy House was to design a truly modern building that relates to both Oxford Street and north Soho, while working within the context of a number of historically significant buildings in the area. We feel our use of hand-made blue faience adds a decorative flourish to the design which complements – rather than competes with – the building's historic surroundings and will make a positive long-term contribution to Oxford Street."
Oxford Street is considered Europe's busiest shopping street and the subject of major regeneration plans. London's new Crossrail line will pass through the area, and in October 2018, Westminster Council announced plans to make interventions to improve green space and widen pedestrian access.
The venue that hosted The Rolling Stones' debut has been given a blue tiled makeover