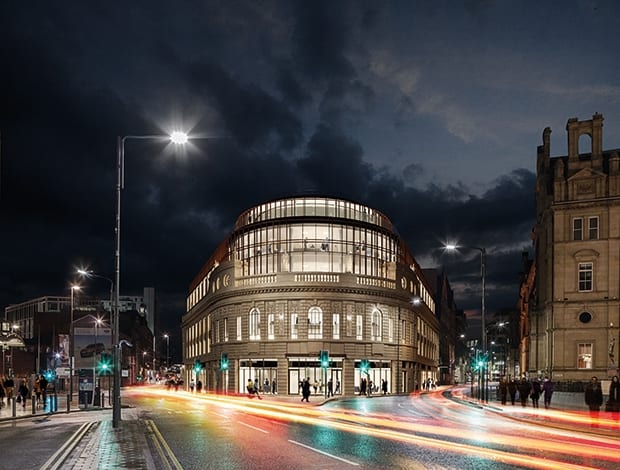 The Majestic is a landmark building in the centre of the city|||
Just like the defence of the Leeds football team in its 1960s heyday, the city itself is as resilient as they come, especially in terms of commercial property. Despite gloomy post-Brexit predictions for just about everywhere in the UK, its office market has remained resilient, with approximately 19,000 office jobs being created over the past five years.
That statistic is revealed in a recent Savills report, Spotlight: Leeds Office Market, which paints a buoyant property picture, stating that office take-up is on track to reach nearly 75,000sq m by the end of the year – 94% above 2016 figures and its best year on record.
The Majestic's high quality interior includes a three-storey atrium
Paul Fairhurst, head of Savills Leeds, says, "Leeds is set to have a great year, as the investment in delivering good quality office space and improving the fabric of the city has resulted in high-profile and exciting companies vying for space. The city centre continues to expand south and west, as a number of mixed-use schemes are being brought forward."
The Savills report indicates that HMRC/NHS Digital is committing to a new regional HQ in the city, equivalent to 35,000sq m. And fashion heavyweight Burberry, whose chief creative officer Christopher Bailey hails from nearby Halifax, is moving 300 head office jobs from London to Leeds, occupying some 4,275sq m on a site on 6 Queen Street.
Bridgewater Place is a Leeds landmark with 10 floors of office space
Savills expects more of this "north-shoring", as firms see the benefits of the city's burgeoning talent pool of graduates, an improved culture and leisure offering (recognised by Lonely Planet as the fifth best place in Europe) plus a whopping £174m of government money earmarked for improve transport.
The proposed second leg of HS2 in 2033 will also be a huge boost to the city and, in anticipation, provides a catalyst for development near the station. This is already is evidence if schemes such as the Majestic Building – in the city centre and on the doorstep of the railway – are anything to go by. "The plan to bring HS2 right into the railway station is a demonstration of the spirit and intent that rests within the city, allied to a whole stream of inspiring and transformational projects," says Mark Finch, director of real estate at local property company Rushbond, which is behind the scheme.
Concordia Works' industrial style appeals to the tech sector
Having secured planning at the beginning of the year, six floors of office space and an additional three storeys are to be added to this historic site on City Square. The interior, by DLA Design, includes a grand three-storey height foyer to give visitors a dramatic welcome.
Details were announced at Mipim this year, and given a ringing endorsement by Roger Marsh OBE, chair of Leeds City Region Partnership, who said at the time: "The Leeds City Region is the biggest hitter in the Northern Powerhouse and committed to transformational schemes such as the Majestic."
Concordia Works' industrial style appeals to the tech sector
Elsewhere in the city centre, developer Boultbee Brooks has transformed a former yarn and cord warehouse into Concordia Works, with design expertise from Gpad. Jeremy Wiggins, director with the interior specialist, explains: "We needed to ensure our design would work in the market and yield returns, while respecting the warehouse's industrial character."
He continues: "The office space needed to suit both open-plan and partition accommodation by using metal raised-access floors and strategically placed light fittings and air conditioning, and maximise net lettable floor area and seamlessly blend with period features and remain sympathetic to the original structure."
Over 700 staff work in Sky's flexible 6,500sq m workspace
To this end, brickwork, existing trusses and cast iron columns have been left exposed, and complemented by a new steel staircase with perforated treads. Materials are kept industrial chic, with polished concrete floors and Victorian tiles with a white glazed brick liftshaft. Each office is dual aspect with natural and mechanical ventilation and includes the now almost mandatory bike store and showers."We designed the office space to be flexible, to attract the target audience of tech and creative SMEs," says Wiggins. Digital jobs in the region are predicted to grow at 10 times the rate of non-digital ones, states the Savills report. Hence projects like Platform, a 1,1500sq m space, are springing up.
Property firm Bruntwood has received grant funding to develop a 465sq m incubator space for tech and creative startups. This positioning of Leeds as a gigabit city is a factor in driving expansion south of the river Aire, where there are already more than 8,500 digital and technology companies.
The Sky digital hub opens up a double-height ex-retail unit
To emphasise this, none other than Google has chosen Leeds as the location for its Digital Garage. Situated at Leeds Dock, this initiative will enable the tech giant to help more than 200,000 startups to develop digital skills. Also at the dockside, BDG created the design for a Digital Centre of Excellence for Sky. Accommodating over 700 staff in 6,500sq m, the designers transformed a double-height empty retail unit, working with the client to develop the internal cores, vertical circulation and flexible workspace to create a campus with a "tech startup mentality".
This project scooped the 2017 British Council for Offices (BCO) Innovation Award, with judges praising the risks successfully taken to incorporate a new mezzanine floor. Former OnOffice columnist Neil Usher, then workplace director of Sky's property services group, said at the time: "The simple, striking and vibrant space right on the waterfront is a natural fit with the building and its surroundings, and sets Sky apart as a fantastic place to work in Leeds. It's up there with the most inspiring tech innovation spaces you'll find anywhere right now." Rushbond's Finch sums things up nicely about this jewel in the Yorkshire crown when he says: "Leeds is a city with an eye over its shoulder at the past but importantly, a real ambition for the future."
With a growing tech community and Google on its way, office take-up in the Yorkshire city nearly doubled in the past year, reflecting a thriving culture and high-quality design