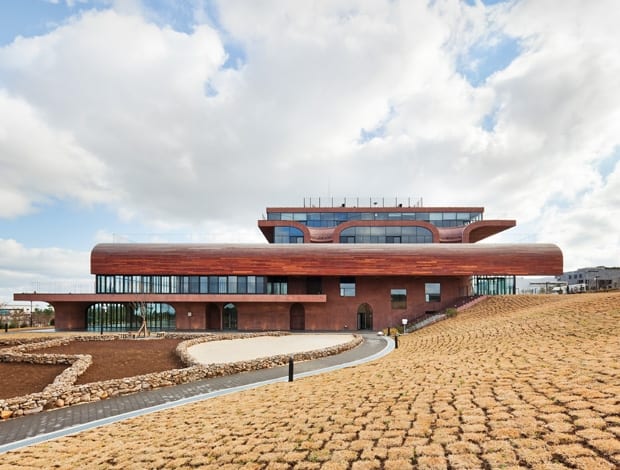 Korean comms company sets up on a volcanic island|The main work floor: there are no private offices, only smaller meeting rooms|Mass Studies' building for Daum comprises a series of stacked concrete arches|The main lobby area on the ground floor, which is dedicated to social activity|The concrete was dyed an ochre colour, to echo the volcanic landscape|Former urbanites now enjoy views of nature, instead of dense high-rises|Duam hopes that its migration from Seoul will give staff better lives||
Jeju island, a volcanic island province of South Korea once popular as a honeymoon destination, is set to become Korea's answer to Silicon Valley, with internet company Daum Communications paving the way by relocating 350 of its 1,500 staff away from the capital of Seoul. Consonant with this breakaway to the countryside, Daum's new headquarters, designed by Korean architectural practice Mass Studies, is purposely miles away (aesthetically) from the urban high-rises it has left behind.

Standing at only five storeys high – a self-imposed restriction by Mass Studies – the building is based on a cohesive architectural grammar, which can be continued in a linear way or assembled in various combinations as the headquarters grows. It comprises a stack of arched concrete forms, each a lateral plane with curved ends, which create large vaulted or cantilevered roofs inside and outside without the need for supporting columns. Designed in only five variations, the forms are designed to be modular so the headquarters can be extended similarly in the future along the 800-metre-long site.

"We weren't interested in building a high-rise," says Minsuk Cho, principal of Mass Studies. "The company wanted something that was only possible here and not in Seoul, to entice employees who were hesitant to move. Also, we realised that high-rise offices aren't interesting socially. They can often be suffocating, with their big curtain wall and artificial ventilation; you spend most of your time there, but there's no spatial quality."

With that in mind, the modular system devised by the practice has allowed for the anti-high-rise: a vast and dramatic interior with high ceilings and sprawling open-plan floorspace. "Most rooms are rectangular, yes, but the space itself is more sensuous and organic," says Cho.
The ground floor is intended as a town square, dedicated to social activities: the lobby, plus a games room, gym, canteen, breakout spaces and a triple-height auditorium, most of which open out seamlessly to outdoor spaces. The floor above is the main working hub, a double-height space with seas of desks and no private offices (even the company founder doesn't have his own office) based on the notion that open-plan, horizontal workplaces do more to encourage spontaneous collaboration and interaction. The sheer scale of the building has taken the employees some getting used to, according to Cho: "Some said it took a while for them to find their way around, because it's not a typical Taylorist structure with a spine, but they soon found their own trajectories. It's less like a tree formation and more like a web."

There are secluded media rooms, cordoned off by glass only, and separate conference rooms with a library above, which sits on a mezzanine third floor overlooking the main workspace. As the building ascends, the floorplates become smaller and house more meeting rooms, some offices and project rooms – where the so-called "decision makers" develop the latest top-secret technology – with the rooftops of floors below used for more grassy outdoor spaces. Gaps between the concrete modules house facilities such as the restrooms, HVAC, lifts and more meeting rooms.

Far from the gimmicky, over-designed offices that have become de rigueur in the world of workplace design, particularly for Daum's dot-com-boom contemporaries, the interior here is a blank canvas. The walls of the ochre-pigmented concrete exterior are carried inside, with not a single decorative invention made by the architects. And in its purity, the architecture alone is its focal point. "We looked at the Google and Facebook headquarters," says Cho. "These are offices where the architecture virtually disappears. They have these funny rooms and novelty things like slides, but often they don't consider the architectural quality at all." Instead, Mass Studies looked to landmark buildings in the evolution of workplace design for inspiration, such as John Soane's Bank of England, Herman Hertzberger's Centraal Beheer and Frank Lloyd Wright's Johnson Wax building, elements of which can be spotted around the Daum HQ – its village atmosphere, its vertical and horizontal interconnection of space, its rugged aesthetics, and ultimately its consideration for the people who will be inhabiting the space. "Daum is more of an ad-hoc, do-it-yourself office space. They're a creative company, so they'll decorate it themselves, under this monastic, calm, almost brutalist backdrop."
Concerned that the concrete's natural grey might be too harsh, the practice chose to dye it ochre to add warmth, which also matches the tones of the island's famous volcanic landscape. The long arched shapes of the structure also subtly allude to the local geological history, mimicking the island's lava tunnels. To the same end, all four sides of the building have floor-to-ceiling windows – a feature particularly prevalent here, as many employees who have moved from urban Seoul will not be used to mountain and ocean views from their desks. "It was important to engage with the local identity," explains Cho, "so the Seoul urbanites can enjoy what the island can bring. It's a new discovery for them."

Daum's bold and forward-thinking decision to uproot a good proportion of its 1,500-strong staff to Jeju has been eight years in planning, and will gradually see more and more of the workforce relocated to the enormous 132,000sq m site. "I think it will be an important part of Korean history, this reverse migration," says Cho. "It's a very brave move, and it sounds almost anti-urbanistic, but it's important to understand it in the context of Korea." Cho explains that the genesis of the project was the realisation that many of its employees in the country's capital were spending up to three hours driving to and from work. Well-known as one of the most densely populated cities in the world, Seoul is home to 10 million people – a population that doubles during working hours – making living costs high, so many people live far out of the city and have a hefty daily commute. With this new headquarters, Daum intends to give its employees a new lifestyle – something that resonates with the original Silicon Valley mentality, not just due to its tech connections. "It's not just a practical issue," says Cho. "it also contributes to Korea's long problem with centralisation. It is a social experiment."