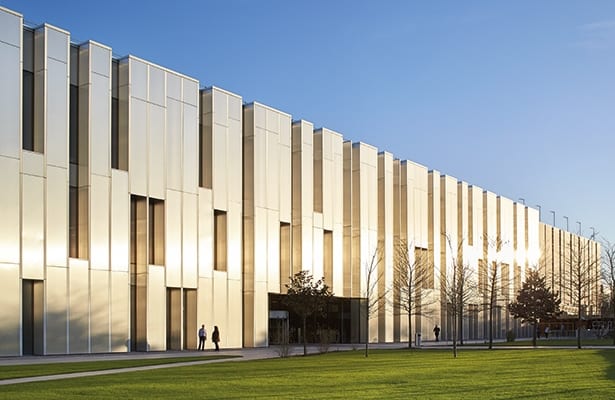 |||
In contrast with all the times we've brought you exciting news of some cutting-edge workplace in Shoreditch, Clerkenwell or Dalston, this month our cover story, written by OnOffice regular Clare Dowdy, heads west. To Osterley, to be precise, a location more synonymous with travellers willing the Piccadilly Line to get to central London from Heathrow. The reason for OnOffice's interest? Sky's masterclass in masterplanning on its Isleworth site.
I visited this campus for myself on a bright spring afternoon just over a year ago and knew then it would be something very special. The care and attention that was going into the employee consultation and change management programme was impressive. And a stellar lineup of architects, designers and engineers – from Arup to Amanda Levete Architects to PLP to Hassell – has meant that the jewel in the crown, Sky Central, did not disappoint.
The Charter Building in our OnSite section also builds the case for cool workspaces not necessarily needing a postcode beginning with E. This speculative project, while making a nod to schemes like Alphabeta, carves its own niche in offices that could attract people willing to ditch their zone 1-2 travelcards for a shorter commute – and in this case a glimpse of the green and pleasant land beyond from the roof terrace, a now ubiquitous but not always justifiable part of new places of work.
And after the great response to our first RegiOn focus, on the south west, last month, we return to that part of the world to look at what's going on in a castle in Cirencester. Designer Interaction has created quite the showstopper, with an injection of fabulous, courtesy of none other than Laurence Llewelyn-Bowen – who, like Craig David or distressed denim, is clearly having a cultural resurgence following his original turn-of-the-century appeal. Speaking of getting out of London, this month's RegiOn looks at Birmingham and the West Midlands, with plenty to write home about since Future Systems' Selfridges set the architectural tone way back in 2003.
This month also sees Grant Gibson give the critical once over to Herman Miller's rebooted Aeron design (p25), while Rebecca Hoh-Hale gives her take on one of the most significant elements of specification: flooring (p65). She finds there is more to floors than maintaining a high-traffic area with minimal fuss, and that manufacturers are responding in ever-more innovative ways to satisfy architects' and clients' desires for stylish, sustainable and cost-effective products. Finally, don't miss all the news and views from our time in Cannes with our comprehensive Mipim report.
INSIDE THIS ISSUE
OnGoing
From the editor The May issue takes OnOffice outside of London's centre
News Piercy&Company wins planning for new build offices
Grant Gibson on… Herman Miller's remastering of the iconic Aeron chair
On London Architecture will play an even bigger role in light of Brexit
On Topic Industrius provides co-working spaces for corporates
Products Brands showcase their latest products, all in one place
The Shredder Fiona Scott takes on lazy lunches and housing names
OnSite
Design spine A central structure adds texture to Cloudflare's office
Hold the fort Interaction updates a Victorian fort for money.co.uk
End of the line The Charter Building rivals central London's top offices
RegiOn
Birmingham BOOM Commercial hubs in the West Midlands take centre stage
OnTop
New heights UCL's business school moves to One Canada Square
OnFlooring
Flooring it Dull flooring makes way for bold materials and zoning
OnStage
Campus clever Sky opts for an innovative campus HQ over a city tower
On co-working Engineering hubs present specialised co-working space
The Sophist Neil Usher and Cathy Haywood take on hotdesking
OnOff
MIPIM review OnOffice reviews MIPIM with help from industry experts
Happy hour Hut celebrates its new space with a cocktail trolley design
Planting ideas Experts present their answers to the staff wellbeing debate
A peek inside the latest issue of OnOffice, including a flooring products special