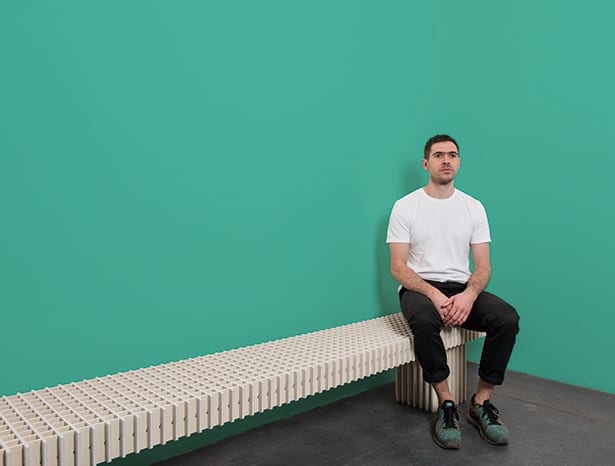 |||
Welcome to the July issue of OnOffice. Our cover star this month is Max Lamb, someone we've had our eye on for a while, who is always producing exceptional, thought-provoking work. When we heard that he was collaborating with Really, a company majority owned by Kvadrat, and was going to be responsible for promoting its new sustainable solid textile board at an installation in Milan, we knew he'd be a perfect figurehead for this, our green issue.
Lamb has long taken a sideways view of natural materials and their application – from digging in the sand to produce a pewter stool design to his creative adventures with Marmoreal, a marble-derived material. He is an engaging, energetic interviewee, not taking himself too seriously, yet managing to make important points about the Really material and the way architects and designers can and should think about materials during their life cycle.
We've liberally spread the green theme throughout the magazine. Our OnTop story this month is a preparatory school in Perth that has taken a rather unpromising set-up – adjacent to a floodplain, unfavourable soil conditions, not to mention nearby overhead power lines and a major gas line – and turned it into a nature-inspired, state-of-the-art educational establishment with a heavy dose of play-themed learning (read climbing and sliding).
Regular contributor Rebecca Hoh-Hale explores how a tree was the symbolic heart of the design at the Shanghai outpost of international creative agency Wieden+Kennedy, while in our OnOff feature Dominic Lutyens looks at the many ways offices can become greener, from Fletcher Priest's work at Angel Court which has its own beehives and vegetable garden to the solar panels and electric car chargers at Hanover Page Mill in Silicon Valley.
Our OnTopic this month, which comes from the viewpoint of B+H Architects' Lisa Bate, meanwhile, is a comparison in approaches to the environment in the context of workplace health and productivity between her time in Shanghai and her current workplace in Toronto.
The issue wouldn't be complete without a comprehensive review of Clerkenwell Design Week. Thank goodness for global warming or a freak break from the previous week's rainshowers, but EC1 basked in sunshine for the event. The weather put everyone in the right mood for enjoying all the new products, innovative installations and hours of networking that have come to symbolise the three days.
IN THIS ISSUE
OnGoing
From the editor All the best of our July Green issue and Clerkenwell news
News Events and networking at the BCO's annual conference
Grant Gibson on… Knightsbridge Furniture's Bebop collection by David Fox
On London Peter Murray gets in touch with London's haptic side
On topic B+H's Lisa Bate on the green lessons learned from China
Clerkenwell review All the highlights from this year's Design Week
Products Brands showcase their latest products, all in one place
The shredder Russell Potter from SODA picks the best of the worst
OnSite
Victoria's reign Land Securities' offices in the capital's office hotspot
Going uptown TOG's elegant oasis in the West End of London
Branching out A tree is at the heart of Wieden+Kennedy's office
OnTop Learning landscapes Christou brings tech and nature into a school design
RegiOn Capital appreciation Demand for space is driving a strong Edinburgh market
OnStage
The right stuff OnOffice profiles Max Lamb, green materials maestro
On the double Why green buildings shouldn't finish at practical completion
On co-working A Hackney art studio provider branches out into workspace
OnOff
A new leaf The different ways of greening up the office
A green theme runs all the way through this issue, from Lamb's sustainable materials to a nature inspired-school in Perth to the tree at the heart of Wieden+Kennedy's Shanghai office