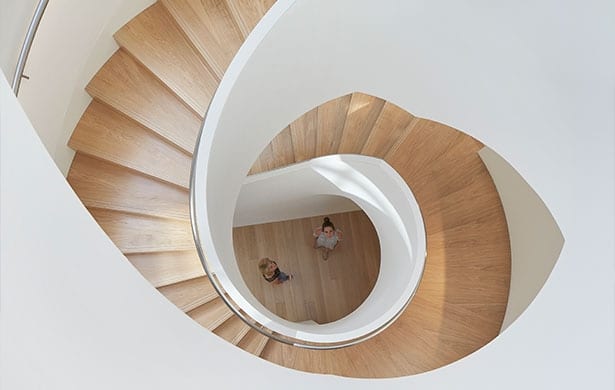 |||
Argent's King's Cross development has been rightfully lauded within the industry and indeed in this magazine on multiple occasions. The R7 building, with its distinctive pink hue, peaks out over its neighbours as you approach from the railway station and cross over the canal into Granary Square. The shade, this month's cover star Joe Morris explains, not only references the brick of the nearby St Pancras hotel, but also that of human skin, providing a vital connection between people and the building.
As we head to the roof terrace, which feels like the windiest location OnOffice has ever conducted a photoshoot on, Morris talks about how an office is constantly outmoded: no sooner has one created an environment to suit a current trend within workplace design, than things move on. With retailer New Look set to move in next year, surely this office building will be in fashion for a while.
The offices of Arcadia, the group responsible for a whole host of familiar names on the high street also features in this, our December issue on p.36. Architect Sheppard Robson has created a fully flexible space as fresh as a fashion -forward wardrobe (and with enough storage to match). Elsewhere in the OnSite section, we look at the workplace of Prysmian, a cable manufacturer, designed by architects Maurizio Varratta and DEGW, as well as one of the flexible office environments from Workspace Group with interiors courtesy of Bluebottle. This space, called the Record Hall on account of its former life as a records depository is off London's Leather Lane, and is also home to a number of jewellers (Hatton Garden being but a precious stone's throw away).
Our new features editor Ayla Angelos has contributed significantly to this, her first issue in a full-time role with us. She reports on the exciting Bund Finance Centre (p.58) a mixed-use development on the Shanghai waterfront with its daring, moveable facade as well as speaking to world-renowned graphic design agency Pentagram about their branding work for the Garden Museum (p.93).
This month sees our annual hotel special beginning on p.69. This time around, we bring you a volumetric hotel from architects Chapman Taylor, a profile on Danish design duo Space Copenhagen and news of how Shoreditch's hotel offer went from shabby to luxury.
And as we reach the end of the year (how quick 2017 has gone), don't miss our look at who's who in the world of workplace in our annual Power List, which will feature in our January issue.
OnGoing
From the editor OnOffice talks pink, clothes and end of year lists
News Menacoo gets the green light for Perth civic project
Grant Gibson on… The Checkpoint Bag by Disarming Design
On London Peter Murray tells it like it is at the urinal
On Topic Jestico + Whiles' James Dilley holds forth on hotels
COVER STORY: Joe Morris The R7 building in London's King's Cross marks a key chapter for Duggan Morris
Practice playlist The most perfect soundtrack to suit your working lifestyle
OnSite
Shop Fit Sheppard Robson's new office for the Arcadia Group
Cable Management Prysmian upgrades to a workspace free of heirarchies
For the Record Workspace Group's latest flexible office with a buzz
OnTop
Gig Places It's not the end for London's arts and music spaces
Fronting Up Foster + Heatherwick build a tassle facade in Shanghai
OnStage
On the double Philip Ross on why the office needs an extra shot of coffee
On co-working Clare Dowdy on Bexhill-on-Sea's WorkShop
OnOff
Once and Floral Pentagram's identity work for the Garden Museum
Wood Working Sebastian Cox launches growing furniture for the desk
RegiOn
Great Scots A new wave of offices and facilities hit Glasgow
Hotel Special
Shoreditch Shift London's East End casts off hipster for high-end
Meating Point Joyce Wang's marble tables resemble slabs of raw flesh
Pump up the Volumetric Chapman Taylor's new modular hotel in Manchester
Nothing like a Dane Space Copenhagen lets us in on the studio's design secrets
Lighting the Way Jonathan Browning bucks trends with honest materials
Plus an insight into the hotels shaping the industry