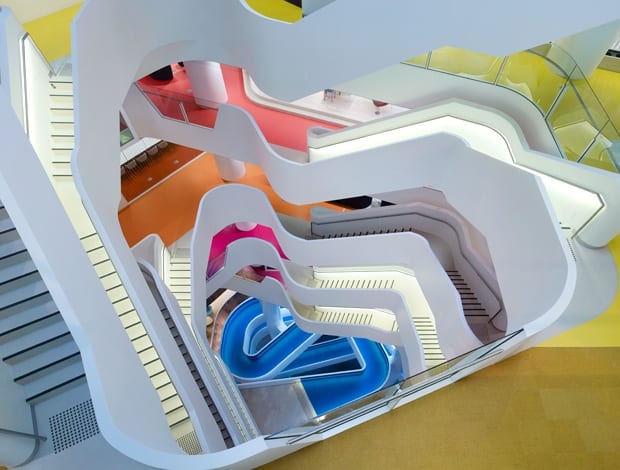 An inviting staircase tumbles down the building, linking staff 'neighbourhoods'|Plentiful natural light was a key part of a brief that sought to maximise wellbeing|With the soaring staircase above, the ground floor acts as a social plaza for all staff|Settings were designed in response to a overall brief from consultants Veldhoen|Illuminated joinery boxes populate an area of meeting tables|There are no fixed desks or offices, only different settings for individual or group work|In time the facade will teem with greenery from the 520 planters on the curtain wall||
Australian health insurance provider Medibank's new HQ in Melbourne, designed by Hassell, is a rich embodiment of its ideas about workplace wellbeing
A healthy workplace is a happy workplace. So when Medibank, Australia's largest health insurance provider, repositioned itself from a traditional, government-owned health insurer to a privatised organisation focused on proactive health management, it was unsurprising that the brief for its new Melbourne headquarters was to reflect its slogan, "For Better Health".
But what is a healthy workplace? This was the question faced by design firm Hassell when it began work on the project.
The new HQ, in the city's Docklands area, was just one element of a radical organisational change programme that Medibank initiated. A high-level brief was developed with workplace consultants Veldhoen + Company, to guide Medibank through the transition to a more dynamic, future-focused organisation, and outline ways it could translate its healthy lifestyle values to the workplace.
In 2011, Medibank started to seek office space from building owners and developers. Seeing an opportunity to create something truly innovative, one such developer, Cbus Property, commissioned Hassell to design a building that it could pitch to Medibank as the perfect manifestation of its wellbeing-focused brief.
"Cbus Property decided to offer a non-traditional building under a relatively traditional lease arrangement – a courageous and trusting thing to do," says Hassell principal Steve Coster. "We couldn't have done a building like this without a confident developer client."
Throughout the base-building design process, Hassell incorporated Medibank's feedback and were subsequently asked to take on the interior design as well. "It was challenging to simultaneously design both the base building for the developer and the interior for the tenant," says Hassell senior associate Anthony Dickens, "but it was also a huge advantage, as it allowed us to do the project in a holistic way."
The first challenge came early on, as the design team struggled to find precedents for healthy workplaces. In response to the lack of existing information, Hassell undertook a rigorous research phase. It drew on case studies published by Medibank on the psychology of exercise and the causes of absenteeism, and placing key members of the design team in several business units for a day to gain a better understanding of the culture of the business and its needs.
From this research, a four ideals – innovation, inspiration, collaboration and healthy – were developed to support Medibank's definition of health as physical, mental and social. This was then incorporated into every aspect of the base building and interior design, from macro to micro elements. "The brief was to create a building that could help Medibank to thrive, not just to exist," says Dickens.
"The brief was to create a building that could help Medibank thrive, not just exist"
The result is a wholly integrated healthy workplace that encourages physical movement throughout the day, as well as ownership of working practices and interaction across the entire organisation.
The design maximises access to views, natural daylight and fresh air, and responds to the needs of the wider area, rather than just those of Medibank.
"When this site was under consideration, one of the key criticisms was that it was a concrete jungle," says Coster. "So, we created a large, publicly accessible green space for the Docklands community in general."
The glazed facade features an integrated combination of climbing and bedded native plants, which softens the mass of the 23-storey triangular building. In time, these plants should attract local birdlife and improve the quality of the air in the workplace, offering both emotional and physical health benefits.
A prominent bike ramp connects Bourke Street to the building and leads to internal bike storage – a particularly successful aspect of the design, having already led to a 60% increase in staff cycling to work.
A demonstration kitchen and adjoining edible garden growing seasonal herbs, fruits and vegetables was inspired by Medibank Community Fund's support of the Stephanie Alexander Kitchen Garden Foundation. The space is open to staff, students and other businesses, and teaches the importance of healthy cooking and eating.
The interior is organised around a dynamic central atrium and stair, which breaks up the 3,000sq m floorplates and enables staff to feel connected to the organisation as a whole.
"Everyone is accessible, visible and available," says Dickens. "The stairs make it possible to move freely and intuitively through the whole building, which removes all of the spatial constraints and allows the organisation to move the way it wants to."
The vibrant colours are a radical departure from Medibank's previous workplace – described by Dickens as "very beige" – and contribute to the mental wellbeing of staff. There are four 'neighbourhoods', to a floor, each of which broadly relates to a particular team.
While teams have a notional 'home base' that staff can drop in and out of, everyone is free to move throughout the building and there are no dedicated desks or offices. Instead, employees have access to a variety of work settings to break down hierarchies and empower them to take ownership of the way they work.
The different settings are divided into individual and collaborative spaces, and were designed by Hassell based on Veldhoen's brief. They range from intensely private library-style spaces and 'refresh' areas where staff can rest to shared workbenches and team tables. Collaborative spaces have also been designed across a spectrum, from semi-enclosed booths and team lounges to 'active chat' areas that encourage informal workplace interaction.
Many spaces feature Vitra's Tip Ton chairs, which have been designed by Barber & Osgerby to increase circulation while seated, and height-adjustable workstations. Some meeting rooms have eliminated seating altogether.
"The big picture in this project is the encouragement of movement and choice," says Coster. "It's all about getting people to move between different settings for different activities and promoting a healthier way of working – the more you can move during the day, the healthier it is to work in an office.
"Medibank Place demonstrates the power that a new and completely different type of space can have on being able to shift mindsets. The nature of the environment an organisation chooses to create says a lot about the kind of organisation they want to be."