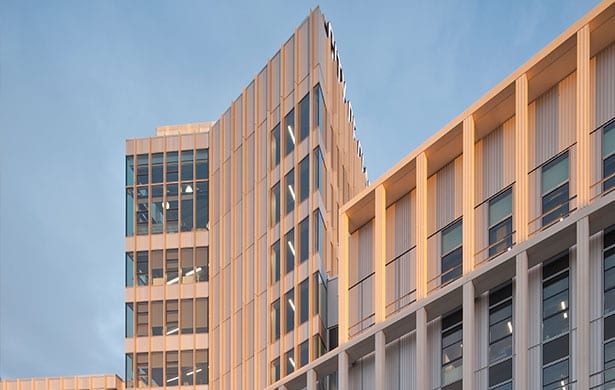 |||
Some would say that Scotland is the new Paris. Or, at least that's what a new YouGov Omnibus survey tells us about its appeal – out of 8,000 UK adults, 55% have visited Edinburgh, while 57% have visited Paris.
Like its sister city, Glasgow has evolved into a prime location in terms of shopping destinations, educational facilities, workspaces and residential properties. With visual icons including the Glasgow Tower, and attractions such as the Style Mile targeting savvy shoppers, it has blossomed, with a 9.9% GVA economic growth over the past five years – and the figures won't be decreasing any time soon.
In February, Amsterdam-born creative workspace pioneer Spaces moved into a new Glasgow location to continue its groundbreaking work. The company's first location in Scotland, its 2,700sq m hub on Bath Street, is in one of the city's best-known office buildings. The workspace offers a flexible co-working environment, with more than 80 seats available, three meeting rooms, a cafe with space for private meetings, as well as further options for quieter methods of work.
Skyline view from the City of Glasgow College's City Campus
Another indicator of Glasgow's developing focus on workspace is the new Registers of Scotland office scheme at St Vincent Plaza led by local studio Graven Images.
The 1,600sq m project is designed to create a smart working
environment to suit the digital transformation programme that the organisation, which compiles and maintains public registers for Scotland, is currently undergoing.
The overall concept draws on influences from traditional Scottish rural elements to reflect the organisation's work recording land information – such as the ownership of plots and terrains fields and the "ell", Scotland's historical unit of measuring land.
The design sets out to reference the history and heritage of the 300-year-old organisation, while "not just transforming them into a completely new way of working," explains Kirsty Lang, design director at Graven Images.
Spaces has opened its first Scottish hub in Glasgow's Bath Street
Ross Hunter, director at the studio, adds: "It's truly difficult to do a piece of design work these days that's not just generic and the same as what's happening in every other city and country in the world. It's hard to step aside from everything that's happening."
The brief supplied by Registers of Scotland was a loose and aspirational one with a short list of mandatory factors, as Hunter explains – "a big room, a flexible townhall space that would be good for training, yoga classes and a canteen lunch hall".
Other than that, the direction was highly flexible, although it required a design that could mirror a time of change during the organisation's mammoth digital transformation.
"It was important that the space had some sense of relationship to Scotland – to the land, to the colour, to the geology and the palette, but also structurally in the way that land is subdivided," says Hunter.
Graven Images' office interior for Registers of Scotland
"Our way of clustering the enclosed and semi-enclosed spaces is central to the design… a little bit like the way that you would make a village," he adds. These routes are cleverly introduced to allow people to walk around and connect with these clusters, rather than imposing a clear, forced and direct route around the office.
Another new landmark is the City of Glasgow College's impressive City Campus, which recently opened its doors after a major £234m development. Designed by Reiach & Hall Architects and Michael Laird Architects, it featured a close collaboration with Sir Robert McAlpine and key threshold spaces by Graven Images.
After supplying a range of seating products to the college's Riverside Campus in 2015, US furniture manufacturer KI provided more than 6,000 units to the City Campus in a palette of warm greys, blues, greens and robust yellows to suit the flexible space.
Glasgow's internationally acclaimed design studio Timorous Beasties has also undergone its own expansion with a new trade showroom, The Shed, within sight of the studio. The Shed was built as a means to show off the studio's textile design products and how each can be used. In the highly flexible space, visitors – more specifically, industry professionals – can "see all the different aspects of the business coming together", says Alistair McAuley, co-founder of the company.
Timorous Beasties' fabrics on display in its Shed showroom
Another recent project for Timorous Beasties involved designing the print and wall interior for Point A Hotels' new Glasgow location, again in Bath Street. With an "affordable but quite high-spec" brief, McAuley explains how the studio wanted to fill the three-level hall with a pattern engineered to the space, that reflected the "feeling" of Glasgow.
The highly intricate pattern "looked quite traditional and looked quite typical of a Victorian house", he continues. "But then on closer inspection you can see these little scenes which, because of the way it was repeated, created this pattern which was quite comforting."
"We couldn't have started this business without Glasgow and we couldn't have done it anywhere else," McAuley tells me. "When we started back in 1990, we needed a place to work and we needed somewhere we could afford."
Since then, a lot has changed: "It seems like there's a lot more people from all sorts of different walks of life at the moment; it just seems a bit more cosmopolitan. There's a constant and steady progression – to say [Glasgow is] booming is perhaps overrating it a bit, but it's definitely quite constant and progressive."
The cosmopolitan Scottish city is seeing a new wave of workspaces and facilities that showcase contemporary design – but with references to traditional Scottish heritage in the mix