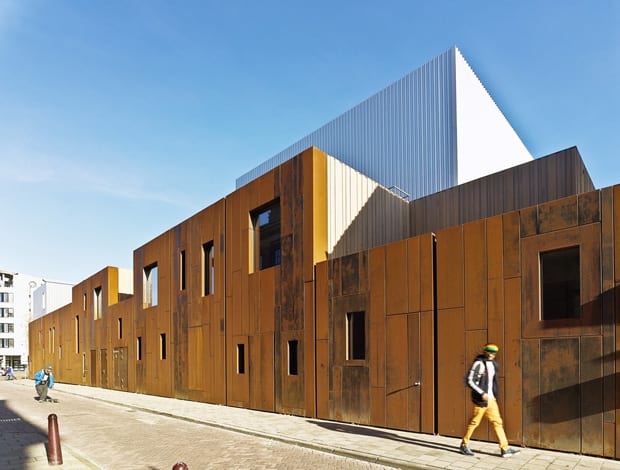 The new section of Gebr de Nobel|Corten steel and shiny stainless steel|The 19th century building was a former cement factory|The main auditorium|The main stairwell is designed so it can be used for small-scale acoustic performances|Building materials include brick, metal and wood in a variety of finishes||
Dutch practice Ector and Hoogstad Architecten has designed a modern music venue that combines a historic factory building with a contemporary structure of Corten and stainless steel.
Leiden, a student city in South Holland, has a thriving music scene so the city council commissioned the Gebr de Nobel music venue to strengthen its cultural profile.
"This building is all about people getting together around their favourite music to have a party," lead architect Joost Ector says, "so it needs to be intimate, atmospheric and a little bit rebellious."
The simple, boxy form of the main body of the new building is enlivened by a covering of Corten steel panels. This has been topped with a highly polished corrugated stainless steel cube that dazzles in bright sunlight and sinks into the sky from other vantage points.
The Corten panels have been weathered to varying degrees and cut into irregular strips. The overall effect is reminiscent of the configuration and natural mix of tones in the 19th century brickwork of the older building and surrounding architecture. Small windows arranged in no particular order add to the hotchpotch feel.
"We've taken very basic materials such as brick, metal and wood used those in a variety of finishes, invoking a play around contrasts – old versus new and rough versus polished. All of this has a funny analogy for how music is often referred to," says Hoogstad.
The old building houses the entrance and large foyer, which "allows you to have a good view of what's happening and who's there".
The concert halls have been designed to allow the audience to get really close to the stage. The main auditorium is dressed in the rockers' uniform of black and gunmetal grey, and each tier of balustrade is clad in perforated, corrugated steel."
Ector and Hoogstad Architecten took extensive measures to ensure it was fully soundproofed. The large, central staircase will be used as a stage for small-scale, acoustic performances.
"Most of the concerts are pop or rock music, so electronically amplified," says Ector. "The walls of the concert halls are designed to contain, absorb and disperse the sound, using mostly perforated and corrugated-metal cladding with a black metal paint finish."