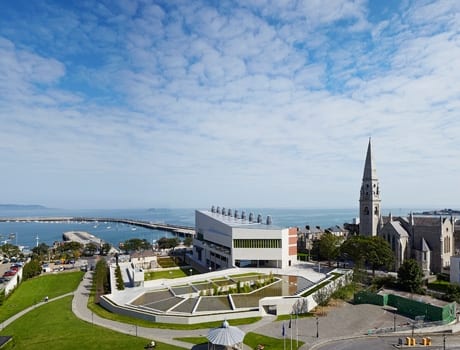 The new library encompasses a large outdoor area with a bamboo garden, a "garden room" and cafe space|Terraced ponds step down the slope towards the library|The building is clad in granite in reference to its site on an old granite quarry|The south facade facing the high street|skylights in one of the reading rooms|Wooden fittings help to subdue sound within the library|The main space acts as a social area|The vertical window provides dramatic views over the sea|…and floods the interiors with natural light|Desks are placed around the perimeter to take advantage of the buildings position overlooking the harbour|The harbour was built at the end of the 19th century and its the largest in the country||
Cork-based firm Carr Cotter Naessens has created the dlr LexIcon library in the suburban seaside town of Dún Laoghaire in County Dublin, Ireland. The architecture aims to reflect the evolution of public libraries and their need to adapt in order to remain relevant to the communities they serve.
A beacon overlooking the town's harbour, the library features a vertical window almost the height of the building that provides breathtaking views of the sea. It marks the local council's biggest investment in a civic structure and the town's first major civic infrastructure since the former library was built in 1900.
The contemporary structure remains sympathetic to its surroundings, its southern façade clad in brick to blend with the Victorian high street. The remainder of the building is clad in granite in reference to the location on the site of an old granite quarry. Its outdoor space has been extended to include a terraced water feature and bamboo garden. The cafe in the foyer spills out into the garden, allowing library users to read and work outdoors.
Internally, the concrete structure is softened by oak bookshelves and panels that help absorb noise. The main space inside the library is envisaged as a living room that benefits from the natural light afforded by the vast window. It is intended as a place where individuals can meet, socialise or read and use the internet.
Separate rooms house reading rooms, a children's library, auditorium, art gallery and history department. One of the reading rooms is devoid of windows – no doubt for the easily distracted – but is lit by skylights in the curving ridges of the concrete roof.