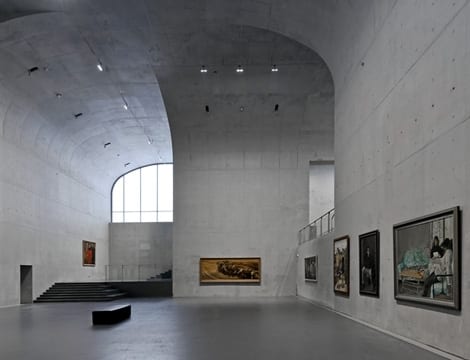 Dragonfly by Odo Fioravanti|Current Table by Marjan Van Aubel in collaboration with Solaronix|Strap Chair by Scholten & Baijings|Strap Chair by Scholten & Baijings|Endgrain by Yael Mer and Shay Alkalay|Switch Light by Joel Hoff|Man Machine by Konstantin Grcic for Galerie Kreo|10 100 1000 by La Metropolitana, Francisco Torres and Luis David Arredondo|House of Trees by Vo Trong Nghia Architects|Sancaklar Mosque by Emre Arolat Architects||||||||Saw Swee Hock Student Centre by O'Donnell + Tuomey|Forfatterhuset Kindergarten by COBE|La Ultima Esperanza by Al Borde|Long Museum West Bund by Atelier Deshaus|Waterbank Campus at Endana Secondary School by PITCH Africa||
The Designs of the Year 2015 nominees have been announced by the Design Museum.
O'Donnell + Tuomey's LSE Saw Swee Hock student centre continues its run of nominations, included in the Architecture category alongside Frank Gehry's Fondation Louis Vuitton in Paris and Elemental's UC Innovation Center.
The furniture category has been absorbed into the product category this year, which includes Konstantin Grcic's moving glass furniture range, Man Machine; and Marjan Van Aubel's Current table, which can charge electronic devices thanks to its integrated solar panel. The 76 nominated projects will be exhibited at the museum from 25 March.
Architecture nominees
Arena Do Morro, Brazil, by Herzog & de Meuron

Beijing No.4 High School Fanshan Campus, China, by OPEN Architecture

Desert Courtyard House, USA, by Wendell Burnette Architects

Forfatterhuset Kindergarten, Denmark, by COBE

Fondation Louis Vuitton, France, by Frank Gehry

House of Trees, Vietnam, by Vo Trong Nghia Architects

La Ultima Esperanza, Ecuador, by Al Borde

Long Museum West Bund, China, by Atelier Deshaus

Markthal Rotterdam, the Netherlands, by MVRDV

One Central Park, Australia, Ateliers Jean Nouvel

Philharmonic Hall Szczecin, Poland, by Barozzi/Veiga

Sancaklar Mosque, Turkey, by Emre Arolat Architects

Saw Swee Hock Student Centre, London School of Economics, by O'Donnell + Tuomey

UC Innovation Center, Anacleto Angelini, Chile, by Elemental

Waterbank Campus at Endana Secondary School, Kenya, by PITCH Africa

Furniture design nominees
10 100 1000 (TenHundredThousand) by La Metropolitana, Francisco Torres and Luis David Arredondo
Current Table by Marjan Van Aubel in collaboration with Solaronix
Dragonfly by Odo Fioravanti
Endgrain by Yael Mer and Shay Alkalay
Man Machine by Konstantin Grcic for Galerie Kreo
Strap Chair by Scholten & Baijings
Switch Light by Joel Hoff