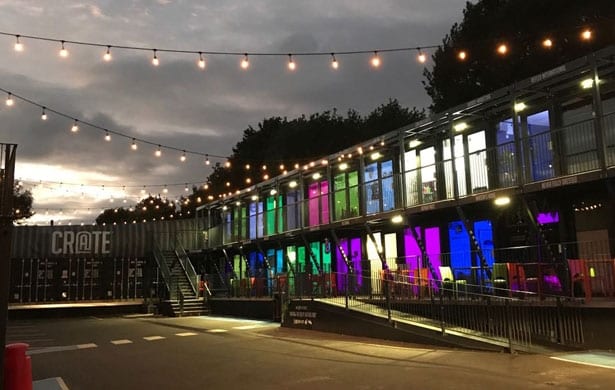 |||
Who knew that a pocket of workplace innovation was on OnOffice's doorstep? Residing in a formerly unloved site, once home to post-war prefabs and then oil storage, is a thriving hub of cutting-edge small business activity less than five minutes' drive from our HQ here in Essex.
"We believed we could do something really cool in this space," says Adam Walker, founder of Crate, so-named as the units on this site in Loughton were shipping containers in a previous life. "We certainly raised a few eyebrows with our plan to transform the site into an entrepreneurial business community."
We do a whistlestop tour of the various occupants, from canine groomers to web designers to a company that makes sparkly bows for cheerleaders. John Walker, Crate's chairman explains the approach to selecting tenants: "We have several visits and interviews before we let new units. We curate the space in terms of the different sectors and life stages of a business, so it maximises two-way support, learning and opportunities."
Adam Walker picks up the baton, "We've grown to see an incredible mix of businesses. One of the reasons people are here is community: that's absolutely key for growth." Just as social spaces are the lifeblood of the average office building, so the same principle applies here.
"We know that working isn't ping pong and bean bags, we are a commercial workspace with engaging communal areas and a good food and beverage offer," explains Walker. Coffee provider Costa is on-site, the first iteration of the chain in a shipping container, delivering a place not just for Crate's business community but somewhere for residents living near Oakwood Hill industrial estate to enjoy too.
The team behind Crate have ambitious plans in terms of the quality and quantity of this type of workplace it provides. "In the future, we aim to use purpose-built modules instead of shipping containers. This gives them longer life, improves building performance and provides greater flexibility to meet more business needs," says Walker.
On a logistical level, the entire business park can literally be picked up and reassembled in a matter of days – it can simply be 'lifted and shifted'. John Walker adds in summary of things to come, "We are aiming to open 22 sites in 7 years. But we now see that as just the beginning."
Love shipping containers? OnOffice have got you covered. Click here for plenty more.
A corner of Loughton is home to a selection of small businesses who benefit from a strong community-driven workplace offered at Crate