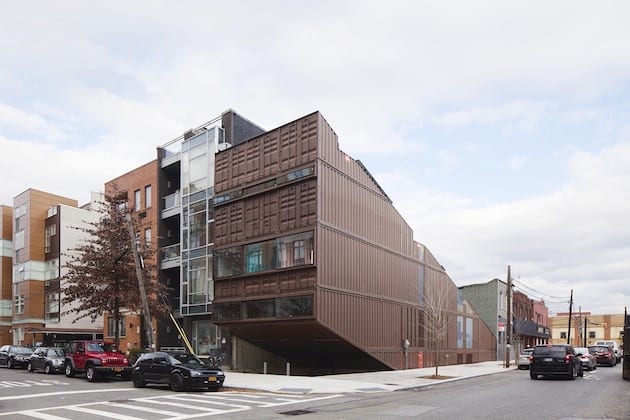 LOT-EK's Carroll House, New York. TRSStudio/Bineural3D. Courtesy of Gestalten, 2020.|||
Consider the shipping container. In an astonishingly brief period of time, the humble steel intermodal container has grown from being a mere infrastructural convenience — always on the move, carried one from place to another on lorries, freight trains and cargo ships — to becoming a perennial element of global architecture.
First released in 2010, Container Atlas is the most complete primer on container architecture yet assembled. Edited by Professor Hans Slawik — himself a pioneer in the field with his 1986 house Campus in the Netherlands — it has now been updated to reflect ten years of advances in the practice.
Billionbricks' Etania Green School, Sabah, Malaysia. Photo: Fernando Gomulya. Courtesy of Gestalten, 2020.
'In the last decade,' said Slawik in an interview with publisher Gestalten, 'we have seen a boom in new container projects worldwide. There is also a wider focus on stationary buildings, while exploring significant temporary structures.' While the 2010 edition focused largely on these latter, the 2020 volume branches further into those intended to remain in situ.
The projects featured are varied in both form and function. There are container houses, remote hideaways, community centres, shops, and office spaces. Many are executed with novel ingenuity.
Cumulus Studio's Devil's Corner Cellar Door, Apslawn, Australia. Photo: Tanja Milbourne / Sixth Law. Courtesy of Gestalten, 2020.
Whitaker Studio's Joshua Tree Residence, planned for completion in 2020, is a Neo-expressionist explosion inspired by the growth of crystals. LOT-EK's Carroll House in New York constructs a sloping, diagonal residence from 21-stacked containers, while the same practice's Drivelines Studios in Johannesburg compounds 140 up-cycled containers into a housing and retail complex, complete with internal courtyard.
BWM Architecture's Vinofaktur Vogau, Styria, Austria. Photograph by Motionlab & Rupert Steiner. Courtesy of Gestalten, 2020.
Container Atlas also features temporary art-space in Geneva made from a circular henge of containers, a school in Malaysia that uses traditional wooden architecture with container supports, and a reconfigurable wine hub in Austria. Jon Darsky's Del Popolo, meanwhile, is a Neapolitan pizzeria that roams the streets of San Francisco, with a traditional pizza oven and seating for customers.
Containermanufaktor's Contiki II, Woltersdorf am Kalksee, Germany. Photo: Sascha Hoecker. Courtesy of Gestalten, 2020.
The advantages of using containers over traditional building materials are myriad. Their steel forms made them immensely durable. They are mobile and adaptable, with a modularity that allows them to be combined in numerous diverse ways. They are inexpensive, and by their very nature can be found everywhere, especially as increased shipping costs leaves many unused.
And they are, in terms of day-to-day running, eco-conscious — although the process of fitting them out can be energy intensive, and the exterior finishes used to protect them over long voyages contain toxic chemicals.
The book's cover, showing Whitaker Studio's Joshua Tree Residence. Courtesy of Gestalten, 2020.
Although Container Atlas is richly illustrated, Slawik's project is not merely a visual compendium. It also charts the history of the phenomenon, and analyses its developments over time. Aiming to give architects the tools to understand container architecture, this new edition might prove an invaluable resource.
Container Atlas by Prof. Hans Slawik is published by Gestalten, 14 February, £29.95 (gestalten.com)
The book's second edition covers a global explosion in shipping container architecture, from desert villas to roaming pizzerias