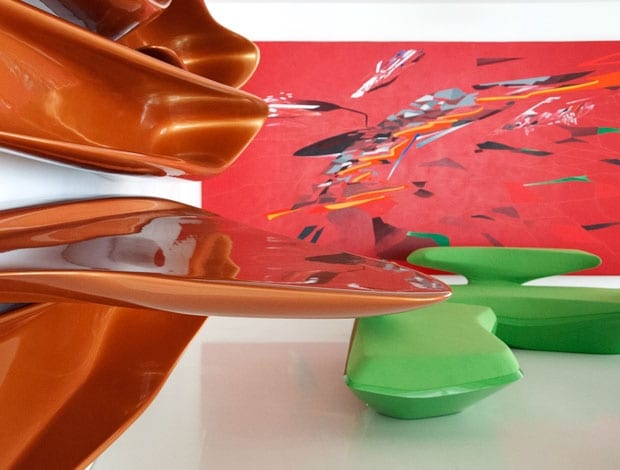 ||
The Fringe programme has expanded over the last few years, with more than 25 creative organisations involved for the 2015 edition. Each has produced a unique piece of communication especially for the event, be that a talk, workshop or display. Here are some of our picks
Zaha Hadid Design
To celebrate their ongoing relationship, Zaha Hadid Design has partnered with Alessi to present a special display of the Italian brand's new and classic objects, as well as design pieces and architectural models by the celebrated architectural practice.
There will be guided tours of the Zaha Hadid Design Gallery on Tuesday and Thursday evening at 6pm. On Wednesday there's a panel discussion featuring Nigel Coates, who has designed for Alessi and whose work will form part of the installation, plus Piero Lissoni, whose new Tic15 watch collection will also be on show.
To attend the event on Wednesday night, RSVP to [email protected].
NBBJ
Architects NBBJ will host a talk entitled Daylight Robbery? How Computational Design Can Help Resolve Tall Buildings in our Capital at its London HQ on Wednesday 20 May from 4-5pm. The discussion will cover case studies such as its much-publicised 'no-shadow tower' concept, which uses algorithms to produce a more even distribution of reflected sunlight, and other projects for its high-profile clients.
London Graphic Centre
London Graphic Centre's EC1 store will create an illustration in its windows over the course of the three days. Local architects Hassell will be live-drawing a design-based piece on to the windows, playing out their architectural fantasies in a way that engages both their professional peers and the public alike. Join them on the evening of Tuesday 19 May for drinks and the chance to explore the shop's range of art, architecture and stationery supplies.
Hawkins\Brown
The architecture practice, which has been tasked with delivering three central London Crossrail stations, presents The Joy of Infrastructure at its St John Street offices. This talk will consider the London transport system's incredible 150-year legacy of outstanding design, architecture and public art commissions, from Harry Beck's original Tube maps to Charles Holden's station architecture and Eric Gill's friezes, and onward to the recent efforts of The Jubilee Line extension and Art on the Underground.
The event will introduce Hawkins\Brown's Crossrail collaborators as they discuss the legacy and future role of design and public in London's transport infrastructure. Speakers include Roger Hawkins; Zana Bruges, MD of Jason Bruges Studio; Crossrail lead architect Richard Brown; Eleanor Pinfield, head of Art on the Underground; and artist Rana Begum.The talk will take place on Wednesday 20 May from 5-8pm and will be followed by drinks.
Barts Square
Barts Square is a new mixed-use quarter in the heart of Clerkenwell that includes 21,370sq m of office space. The marketing suite will play host to daily talks from 10.30am- midday. The first day's session will cover urban placemaking, featuring the development's architects, Sheppard Robson; Wednesday's talk is concerned with Interiors With Integrity and will feature Clerkenwell-based interior architects Johnson Naylor; and Thursday's session is concerned with pushing new boundaries in visualisation technology and will be led by visualisation company The Boundary, which will give an insight into the new digital innovations that brought Barts Square to life, long before the first brick was laid.
Bespoke
There is no shortage of events taking place at recruiter Bespoke. It has partnered with property marketeers Wordsearch (founded by onoffice columnist Peter Murray) for an invitation-only Room 101 event on the evening of Tuesday 19 May.
The event will see three sets of speakers go head-to-head in front of an audience, with the aim of getting their chosen architecture and design gripe banished to the place of no return. Its space will also host an exhibition, curated with furniture brand WorkHouse, to bring together a bold collection of furniture, surface products and interior accessories. Bespoke is also hosting portfolio surgeries by leading architects and designers.