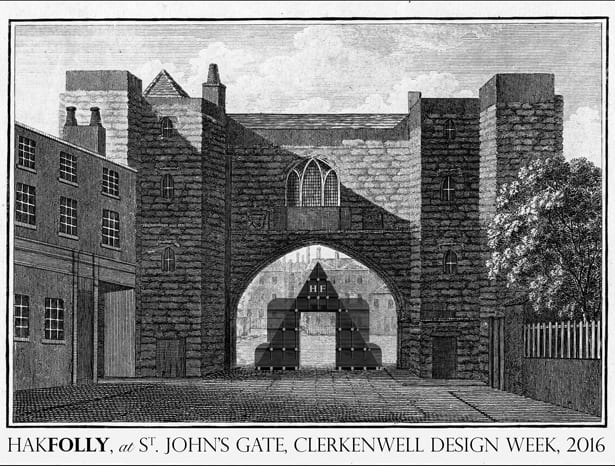 Hakfolly: A collaboration between FleaFolly architects and Hakwood|||
Hakfolly
One of the most prominent locations in Clerkenwell, the St John's Gate, is this year home to Hakfolly. A collaboration between Woolwich-based FleaFolly architects and Dutch wood flooring company Hakwood, it consists of a 4.5 metre high 'temple of timber' which aims to offer moments of peace and tranquillity amongst the hustle and bustle of the rest of the event.
FleaFolly were inspired by a visit to Hakwood's factory in the Netherlands, when they saw how the wood was stacked up during the fabrication process, creating unusual tiered structures. They decided to use this as the basis for the installation, showing the public a quite beautiful but more abstract view of the wood than they would normally get to experience.
Håg
Design firm Hassell has worked with seating manufacturer Håg to create 'The Sensorium' which visitors can see at the Central Street furniture showroom which the latter shares with fellow Scandi brands RBM and RH. This project takes the form of an 'urban pleasure garden', drawing inspiration from the rather colourful history of 18th century Clerkenwell to conjur up a wholly immersive experience. Expect a journey through smoke and mirrors, projections and plants which its creators promise will combine the physical, the absurd and the real.
Morfus
Architect Tim Williams, who during his career with BDP worked on projects such as Frankfurt's Adam Opel HQ and the BBC Studios at the Mailbox in Birmingham has now founded his own furniture company, Morfus. Its SMART storage has a honeycomb structure made of birch plywood and white melamine sheet. With components including doors, drawers and crates, it can be floor-mounted, wall-mounted and freestanding and can work for the home office or for a workplace environment.
Having worked on designing office spaces for a number of years, Williams describes this launch as "sustainable, user-friendly but not too institutional". Morfus can be found in the British Collection, a new part of CDW, located in the Crypt on Clerkenwell Green at St James's Church, alongside the likes of James Burleigh, Very Good & Proper and Ocee Design.
It's the last day of Clerkenwell Design Week today, so check out some of our highlights of the event before it ends