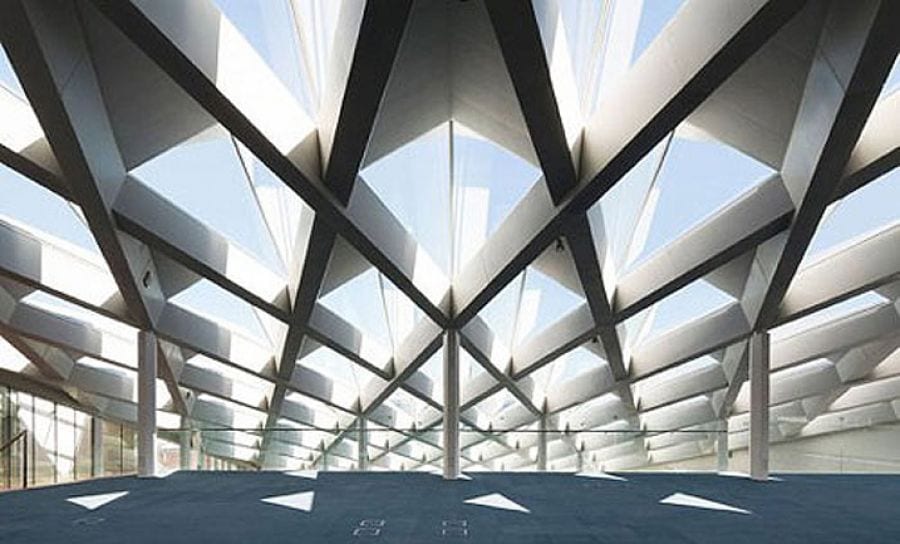 Previously spread across five different offices around Copenhagen, the internet bank's 750 employees can now bond and bask in their 3XN-designed surroundings in the city's Hellerup quarter.
3XN themselves may well be pleased if there's some basking going on, but actually it's the bonding that interests them more.
Because for consultancy principal, Kim Herforth Nielsen, social interaction is an important part of wellbeing and productivity.
"What I like to make is physical environments which change people's behaviour. That's something we as architects can have an influence on," he says.
To this end, he's created something unusual for a corporate client. Inside the 22,700sqm building, there are no corridors, and people are encouraged to use the stairs.
But these are no humble fire escape-style backstairs. Instead, 3XN has conjured a sweeping, sculptural statement spiralling up inside the curving, glass-roofed atrium.
"The staircase is the social element where you meet each other," says Nielsen, "you look around and see what people are doing. And when the staircase is so inviting, people use it more."
This design was inspired and informed by 3XN's work at Deloitte & Touche's HQ in Copenhagen – another 'learning environment', says Nielsen, where the layout contributes to knowledge-enhancement.
He believes that in traditional office spaces with elevators, people get separated. That's not to say that walking is the only option. For the super-busy or the unchatty, there's a discreet glass lift up the centre of the staircase.
Glass plays an important role in 3XN's design, as transparency is one of the bank's themes. "They didn't want a big money tank," Nielsen explains. "But we wanted it to have texture too."
Hence the triangular shape of the façade's panels, in both glass and white aluminium. To accommodate Denmark's building codes, there are more closed, aluminium panels on the south side, as that gets more sun.
There are echoes here of a future 3XN offering for Copenhagen, Bella Centre hotel and conference centre, which is due to complete in 2011. With its pair of inclining towers it's an altogether flashier creation, but the patterned façade borrows something from Saxo Bank.
Bank staff and their visitors enter the €28.4m building under a plinth of travertine. They're met by more travertine inside – at the reception desk and on the floor. "I like it because it's light and has got some texture to it, and it can stand the Danish weather," says Nielsen.
The key office area is obviously the trading floor, positioned on the penultimate storey. Kim Fournais, CEO and founder of Saxo Bank, describes it as the production room, claiming "there are bigger trading floors round the world, but none nicer." Its double height space and big windows give the traders lots of room and natural light.
3XN designed the layout of the 1,700sqm trading floor, though "it's not rocket science," says Nielsen, "they're sitting next to each other in big rows with big monitors on the walls."
Saxo Bank's directors in their five executive offices, meanwhile, enjoy even better light and views on the top floor. Fournais describes them as sleek, modern yet cosy, relatively big, with fantastic views over northern Copenhagen.
Again, transparency is paramount, hence all the glass walls. Some of these are inscribed with text from the bank's corporate statement. "It has a practical application, so people don't walk into the walls and break their noses," says Fournais, "and it underlines that we are a value-based business."
The building makes good use of daylight.Where necessary this is supplemented with top-notch lighting, much of it picked out by the client. Big-name pieces include the reception's pendent lights Pipe Suspension by Herzog & de Meuron for Artemide, and Flos's oversized table lamps SuperArchimoon designed by Philippe Starck, which stand in the foyer.
Meanwhile 90 per cent of the furniture is from Danish furniture company Gubi, some of it especially produced for this building, such as the tables on the director's floor, which are customised editions of its GO-Mono and
GO-Master range. Other pieces include Eames conference tables and Dieffebi drawers.
This being Denmark, the canteen is an egalitarian environment where everyone eats together. It overlooks the canal, and can be seen from the foyer.Diners sit at customised versions of GUBI's GOS3 tables, and are illuminated by Marcel Wanders' Zeppelin light for Flos. "They're like clouds hanging down," says Nielsen.
When Fournais realised that it was time for his staff to be based under one roof, he did consider relocating into an existing building, "but it was clear that if we wanted something optimum we'd have to build it ourselves."
Interestingly, the bank's new home already existed on paper; 3XN had designed it for the site's owner, a famous danish beermaker; it even had a name – the Carlsberg Harbour.
The original masterplan stipulated that the site should carry two buildings. However, the bank wanted a single structure, so 3XN redesigned it slightly as if they were "two long buildings glued together and then pulled apart again, so they're twisted", says Nielsen
That means that the low, two-storey building alongside the canal houses, along with the canteen, some meeting rooms and roof terrace.
But few changes were made after that. Nielsen had designed it as "a lively building that's on the move", according to Nielsen. And this suited Saxo Bank, which likes to think of itself as young and dynamic.
The occupants will soon be rubbing shoulders with other recipients of 3XN's design talent. Later this year, staff at Danish law firm Horten will move into their new HQ on to the former brewery site. And again, the façade will no doubt become an architectural talking point. Again it's a geometric pattern, but this time it's a three-dimensional creation in fibreglass and Nielsen's stone of choice, travertine.