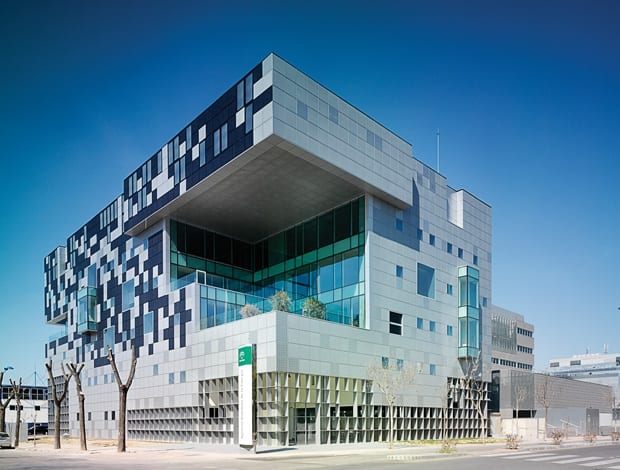 The Andalusian Energy Agency by Ruiz-Larrea & Asociados|The facade mixes solar PV and other elements such as ventilation panels|RLA's building meets 75% of its energy needs|The ground floor is glazed, better connecting it to the outside world|Covered in semi-transparent plastic, the columns also let in the light||
The French expression a priori (roughly translated as "at first glance", or "with preconceptions") is a dirty word for César Ruiz-Larrea, of Madrid-based architecture practice Ruiz-Larrea & Asociados (RLA) and one of the architects of the Andalusian Energy Agency in Seville, Spain. The agency was founded to develop policies established by the regional government to optimise its energy supply in terms of economics and the environment, and has set up its HQ in a riverside park called Cartuja 93, part of a scientific and technological complex set up in 1993 on the former grounds of Seville Expo '92.
The imposing, geometric, irregularly shaped building is the antithesis of an a priori approach to architecture according to Ruiz-Larrea, who has written a statement about the building's aims that includes his polemical views on architecture. Referring presumably to Le Corbusier's oft-quoted "A machine is a house for living in", Ruiz-Larrea says, "We don't believe a building should be seen as a machine – the old modernist paradigm – but as a flexible organism capable of adapting to variable conditions surrounding it."
He bemoans the fact that the legacy of modernist architecture is simply an aesthetic one. "We're seeing a proliferation of formally pared-down designs that lack the technological influences that originally justified the work of those early, modernist pioneers. Today, there's a gulf between architectural languages and concepts that are relevant now." Rather than taking this shallow, primarily aesthetic approach, contemporary architects, should, he believes, be responding to today's ecological imperative to create environmentally friendly designs. "Technological systems like solar panels, ways to harness thermal energy, wind power – these should be the prime materials used in new architecture. This approach should replace those awful projects in which terrible, energy-saving ideas are prosthetically tacked on to banal buildings whose existence is then justified by their 'eco' credentials." He also laments that "vulgar, consumerist architecture, encouraged by the mannerist, highly personal work of some starchitects, exists alongside the ever more pressing need to address energy-related, economic and social problems".
In order to conduct its research into finding solutions to such issues when designing the Andalusian Energy Agency, RLA joined forces with universities and bodies, such as Spain's National Renewable Energy Centre (CENER), which has an office in Seville. This made the project in part a collaborative endeavour.
The Andalusian Energy Agency is a striking structure but it isn't necessarily evident from the outside that its aesthetic has been determined by its chief goal: to minimise energy consumption. In fact, the pattern of rectangles and squares on its facade are Mondrian-esque (save that they're not in primaries but shades of grey and blue); less flatteringly, its grid-like exterior looks Lego-like. And the way in which the cantilevered top of the building projects over an enormous void looks extremely ungainly.
But, says Ruiz-Larrea, the way the building looks is determined by its energy-saving features. It is bioclimatic, meaning that its design takes into account changing climatic and environmental conditions to help achieve optimal thermal comfort inside. Its intriguing, technologically sophisticated facade, developed with the company Sistemas TDM, is called Biopix. The term seems to refer to the fact that the cladding is, as RLA describes it, like a "biological organism", given that its panels – which have different functions, from solar ones that generate electricity to others providing ventilation – respond flexibly to changing weather conditions. The panels also help regulate temperatures in the building by retracting telescopically into a cavity of air behind them.
Seville is in southern Spain, where the summers are very hot, so ventilation is a key concern. But, in this regard, the building's location works in its favour: it stands in the path of winds that sweep up the nearby Guadalquivir river. In fact, the building takes much inspiration from local context. It nods to the Andalusian, architectural tradition of the mocárabe – skylights and elaborately decorative perforations in walls and ceilings, like those at the Alhambra palace in Granada, Andalusia, which passively draw natural light into buildings.
If, as Ruiz-Larrea says, his building's form is shaped solely by its philosophy rather than by his aesthetic preferences, then logically the look of its skin is accidental. The interior, by contrast, is more obviously functional and less visually arresting.
The building has two floors below ground level (these house its services and a car park) and five above. The ground floor is dominated by an atrium overlooked by balconies on all the upper floors. Aesthetically, the icy white interior might look bland, even rather sterile, but its experimental, eco features are admirable. The architects claim the project is practically self-sufficient in terms of energy consumption; it meets 75% of its energy needs. Supplementing these are a biomass boiler (which burns wood pellets as well as olive stones from locally grown olive trees), while some air-conditioning is supplied by an absorption refrigerator (a method of air-conditioning using waste heat from a gas turbine or water heater).
On the ground floor are an auditorium, multifunctional rooms, a library and creche, while lining its perimeter are oasis-like, shady areas with plants and pools of water, across which blow currents of air, entering the building and making the interior cooler. These areas are enclosed by transparent, grid-like windows (rather than the Biopix panels cladding the floors above), and so let in plenty of natural light.
Also bringing daylight into the interior – and so helping to cut down hugely on electricity consumption – is a massive skylight at the top of the building. Again referencing traditional Andalusian skylights, this lets in as much sunlight as possible yet regulates its temperature. Covering this inside the building is a frosted polyethylene shade comprising inverted pyramid shapes that diffuse the light evenly and prevent glare.
Further key features include the innovative, cylindrical lightwells that double as structural columns. Partly covered in a semi-translucent, milky white methacrylate, these cleverly transmit daylight vertically from the top of the building to all the floors beneath.
It's commendable that this office's design is radically driven by ecological concerns yet its architects seem misguided – indeed puritanical – in thinking that these are incompatible with an interest in aesthetics. The two can coexist, as the gorgeously decorative, proto-eco Andalusian buildings that influenced this project show.