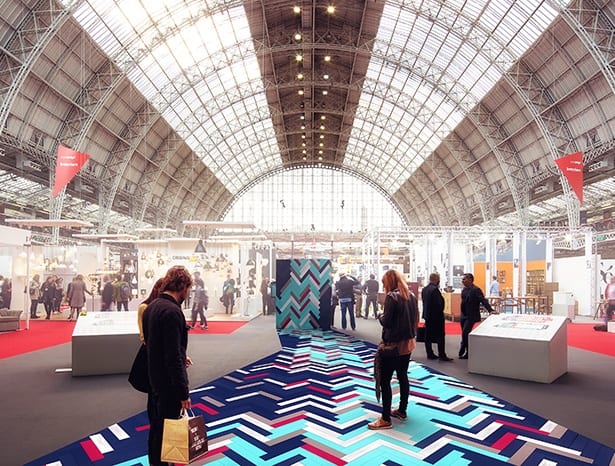 |||
100% Design returns to Olympia London from 21-24 September, for its 22nd year. This year's theme is Experience, to be explored through specially commissioned installations. A London Design Festival staple, the event will celebrate up-and-coming brands alongside leading domestic and international industry names, and once again will comprise five industry sections: Interiors, Workplace, Kitchens & Bathrooms, Design & Build, and Emerging Brands.
Always a great talking point, visitors can expect a great variety of installations at this year's 100% Design, including the playful Materials Cloud Bar, designed by Studio Glowacka and inspired by the modular construction toys of the 1970s. Architect BDP will be providing an exciting new element to the trade show, with a design-inspired soundtrack leading visitors into Olympia's Grand Hall.
Main auditorium
As the intellectual heart of the show, the main auditorium has been a standout 100% Design commission for a series of leading designers in recent years. This year the brief to provide
an inspiring venue for the series of 100% Design talks went to Miska Miller-Lovegrove. Architect Miller-Lovegrove has created a cocoon-like structure, described as a "translucent acoustic nest", out of fabric. The material was stretched and stitched at angles to create a structure that is made out of multiple sheets, with no vertical structure. Fabric firm Vescom advised Miller-Lovegrove on the choice of material for the design, opting for its light Marmara fabric, which is translucent and sound absorbent.
Central Bar & Bloggers Lounge
The Central Bar at 100% Design really is the centre of the show – the ideal spot to meet and network and plan your day. This year, the designers have brought together a series of upright colour scales that define the area, creating a sense of privacy and separation away from the buzz of the main show, and adding drama to the central space. A dynamic overhead installation works with kinetic lights to insert an engaging sense of rhythm to the area. Next to the Central Bar, those who use the Arper Bloggers Lounge can expect a welcoming zone where digital press can connect with audiences and relax outside of the main spaces thanks to refreshments and free wi-fi.
This year's 100% Design talks programme will be curated by the Design Museum as part of its "on loan" campaign, taking the museum out into the design community. The talks will explore new trends in contemporary design and visitors will also have a glimpse of what to expect when the new museum opens in Kensington in November. Daily trend reports from the Future Laboratory, WGSN and Steelcase will deliver forecasts on retail, interior and office design.
Office Trend Report
On Thurday at 12.15pm, Steelcase will present key insights gained from its research into different ways that companies can create workplaces that inspire employees and facilitate better engagement. OnOffice editor Helen Parton and Rebecca Ruggles, Airbnb's lead interior designer, will discuss the implications for the future of workplace design.
Afroditi Krassa
On Thursday at 4.30pm Afroditi Krassa will deliver her keynote talk, chaired by Sarah Miller, CEO of Sarah Miller and Partners. Krassa's award-winning branding and interior design studio AfroditiKrassa was founded in 2002 and has a portfolio spanning bars, restaurants, hotels and cinemas. Over her career, she has launched numerous product collections and designed more than 75 hospitality brands and interiors. She will share what experience has taught her about hospitality design and what she hopes to do next.
Forum talks
Sponsored by RIBA Appointments, The Forum in the Design & Build section of 100% Design aims to build relationships and encourage debate through its series of engaging live talks and discussions – curated by journalist and curator Laura Snoad – which will take place every afternoon. Focused around professional development, they will explore topics such as intellectual property law, trendspotting, the rise of temporary spaces, designing for communities and, of course, the future of the industry post Brexit.
The Workplace zone will highlight how innovative companies are using design thinking to improve both productivity and the experience of the workplace. Steelcase, this year's research partner, will also be providing regular sector-leading insight into workplace design and human behaviour at work.
Nowy Styl Group
Returning exhibitor Nowy Styl Group's new launches at 100% Design include the Levitate desk and table range, the Tauko range and the Podium, alongside its modular Sand acoustic system. The Tauko moulded laminate chair is available in a range of finishes and styles, and is ideal for cafe and breakout areas.
MARK Product
MARK Product will launch its Alf range of chairs, stools and tables at 100% Design, designed by Hart Miller to team comfort with personality. Anna Hart and John Miller created the Alf chairs, stools and tables from the same core parts, and the range can later be easily disassembled for reconditioning or recycling.
Haworth
Also exhibiting as part of Clerkenwell Presents, Haworth Design Studio will introduce the Fern task chair in collaboration with ITO Design. Inspired by nature, Fern's sculpted form and innovative "dimensional suspension" provides balance and flexibility. It has been designed to accommodate a diverse working population, regardless of size, posture or work mode.